Strategies
NFL Championship Round Recap

The stage for Super Bowl XLVIII in New Jersey is set. Peyton Manning's Denver Broncos (AFC) will face the Seattle Seahawks (NFC) on Sunday, February 2nd. It will be a pass heavy team versus a run first team. The league's top offense against the league's top defense. Before we take a look at that game though, let's recap what took place on Sunday in the Championship round.
New England Patriots at Denver Broncos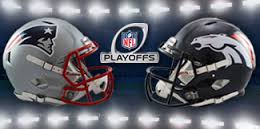 Once again, Peyton Manning has beaten Tom Brady in the NFC Championship game. The last time that happened, Manning won the Super Bowl with Indianapolis. This time he carved up the Patriots secondary for 400 yards and a couple of touchdowns.
Late in the first quarter, Denver drove down the field but were held to a field goal. Patriots' cornerback Aqib Talib was taken out of the game early on after a hard running block by Broncos wide receiver, and former Patriot, Wes Welker. Manning hit Jacob Tamme in the second quarter for a touchdown to make it 10 to 0.
Manning found wide receiver Demaryius Thomas for a score in the third to make it 20 to 3. The Patriots would go on to score 13 points in the fourth quarter, but still fell short 26-16. Both teams' top rushers were held to under 60 yards, which proved to be much more of a problem for New England, who relied on their ground game against the Colts for six touchdowns.
Demaryius Thomas ended the game with 7 catches for 134 yards and a touchdown, while Denver tight end Julius Thomas hauled in 8 for 85 yards. Broncos' kicker Matt Prater looked solid today as well, converting 4 of 4 field goals, his longest being 54 yards. Tom Brady finished the game with 277 passing yards and two touchdowns, one on the ground.
San Francisco 49ers at Seattle Seahawks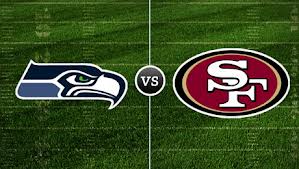 Unlike the other Championship game, this one featured two of the league's top defenses and rushing attacks. Russell Wilson of the Seahawks took on Colin Kaepernick of the 49ers. With both teams being from the NFC West division, this marked the third time this year the two teams faced off.
The 49ers were in total control of the game in the first half, despite only outscoring Seattle 10 to 3. While Russell Wilson remained under pressure (he was sacked 4 times) for almost the entire game, Kaepernick had holes to run through on almost every play, which was key to the 49ers early success. The Seahawks surged back in the second half, outscoring San Francisco 20 to 7.
In the end, Russell Wilson outperformed Colin Kaepernick, which was ultimately why they won the game. Wilson threw for 215 yards and a touchdown, while Seattle running back Marshawn Lynch added 109 rushing yards, including a 40 yard sprint for six.
Turnovers hurt the 49ers. Kaepernick lost a fumble and threw a couple of interceptions, including one to essentially end the game, and in the game, proving he still needs to work on his passing game. Seahawks wide receiver Doug Baldwin proved to be a difference maker, with 106 receiving yards on six catches and a 69 yard kick return in the third quarter.