Strategies
NHL FanDuel Lineup for Monday January 11th 2016

The sports action around the country is limited and that includes on the ice as four contests headline the NHL schedule tonight. That being said that won't stop any of us from looking to cash in on some FanDuel NHL action tonight.
The downside is their will be no Alexander Ovechin, Patrick Kane or even Jamie Benn on the ice to capitalize on. That being said we have a few options we really like as well as a few FanDuel bargains that we will look to use tonight to cash in on with our NHL FanDuel lineup.
Join FanDuel's $10K Mon NHL Blue Line Today!
One of tonight's NHL contests we are paying extra attention to is the San Jose Sharks verse the Calary Flames matchup. Entering tonight, the Flames have allowed the second highest goals per game in the NHL at 3.08 per contest. This opens the door for a few players on the Sharks who we expect to put together a good game.
One of those players is Joe Pavelski who is coming off a 9.4 fantasy performance after scoring a goal and an assist against the Toronto Maple Leafs on Saturday. Pavelski has shown he has the abilities to be a solid fantasy contributor posting at least eight fantasy points in five of his last ten games while adding at least 2.7 fantasy points in two additional games.
Another option we like tonight is Roberto Luongo for the Florida Panthers in between the pipes. The Panthers goalie has been solid picking up wins in nine straight contests he has been between the pipes while posting at least four fantasy points in each of those contests.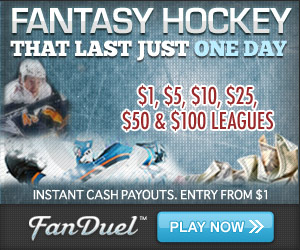 Here is our NHL FanDuel Lineup for Monday January 11th 2016.
LW – Jonathan Huberdeau ($6,100): As we built our lineup we took a few looks at a few players around the board. In the end after spending cheaper at a few of the other positions we were able to go with a  few of the more expensive options. Huberdeau is one of those options and is red hot posting at least 6.4 fantasy points in three straight games making him a must start for fantasy owners.
LW – Loui Eriksson ($4,700): Since we looked to spend on a few of the top fantasy options tonight, we needed to find a few FanDuel bargains who would deliver us some salary cap relief. One of those options is Eriksson for the Boston Bruins who has delivered at least three fantasy pints in five of his last ten games.
RW – Joe Pavelski ($8,200): We look at Pavelski as one of the top fantasy scoring options taking the ice tonight against a team that allows a ton of goals. Entering tonight, Pavelski has 21 goals and 19 assists on the season.
RW – Jaromir Jagr ($5,100): The Panthers veteran might not be as young as he once was but he has six goals over his last ten games. In that stretch, Jagr has posted four games with at least five fantasy points for his fantasy owners.
C – Joe Thornton ($4,900): We are looking to stack the deck tonight with members of the Sharks. Thornton much like his teammate Pavelski, has continued to turn in solid fantasy numbers including at least 3.8 fantasy points in nine of his last ten games while offering you salary cap relief at less than $5k.
C – Kevin Hayes ($4,200): Hayes is the type of low cost high reward option that could deliver us some big time fantasy results in tournament play. Coming off an impressive 7.9 fantasy performance we have elected to ride with the Rangers center tonight against the Bruins.
D – Aaron Ekblad ($4,900): Looking for some nice FanDuel Bargains we have turned to the defense position. Ekblad might not be one of the top fantasy scorers at the position he has however posted at least three fantasy points in five of his last nine games.
D – Brent Burns ($7,000): In the end we elected to go with the top fantasy option at the defensive position tonight. While it cost us $7k, Burns production is well worth the start. The Sharks defenseman has at least a goal or an assist in eight of this last ten games including six straight contests.
G – Roberto Luongo ($9,300): As many believe all good things must come to an end, we have elected to look past that and go with the hot hand of Luongo tonight as the Panthers look to keep their point streak alive. Luongo has not yielded less than four fantasy points in nine straight games.