Strategies
NHL FanDuel Lineup for Tuesday December 22 2015

The fantasy action is heating up on the ice as the NHL season continues to roll on Tuesday Night. Tuesday Night's lineup features ten games to provide us all with a great selection of fantasy options to build our roster around. One of those games features the NHL top goal scorer Jamie Benn taking on the NHL leading scorer Patrick Kane.
Kane will lead his Chicago Blackhawks on the road to Dallas to take on the Stars. As we start to look at these two stars, each of them look like a great option on Tuesday Night. Entering that contest, Kane is coming off a 12.3 point fantasy performance in his last outing as well as at last three fantasy points in nine of his last ten games.
Join FanDuel's $12K Tue NHL Blue Line Today!
Benn on the other hand hasn't been as consistent as Kane has over the past ten games, but he has turned in some big time fantasy performances. That includes a 12.1 performance just a few nights ago against Montreal as well as a 12.9 fantasy outing back on December 8th against Carolina.
As far as some other options we took a long look at a few of the matchups that feature teams that have allowed the most goals in the NHL. One of those matchups features the Winnipeg Jets traveling to take on a Calgary Flames team that is allowing a league high 3.36 goals per game. A few of those Jets we like include defenseman Dustin Byfuglien and left winger Andrew Ladd.
Along with the Jets, you could also consider adding some Flames to your lineup as well. The Jets have struggled to slow down opposing teams as well as they enter this game allowing the fifth most goals in the NHL. Another team to consider building your team around is the Toronto Maple Leafs who are taking on an Arizona Coyotes team that ranks second in goals allowed.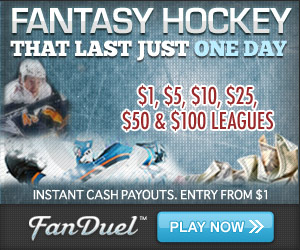 Here is our NHL FanDuel Lineup for Tuesday December 22nd, 2015.
LW – Jussi Jokinen ($5,300): Jokinen and the Florida Panthers have a solid fantasy matchup tonight against an Ottawa team that ranks seventh in the NHL in goals allowed per game. Jokinen has been a solid option over the past ten games including four games with at least 3.9 fantasy points in the teams last seven games.
LW – Mathieu Perreault ($5,600): We could have gone a few different directions in tonight's Jets/Flames matchup. While we loved the idea of using Johnny Gaudreau but we needed a cheaper option. Perreault is one of those options currently riding a six game stretch with at least two fantasy points.
RW – Patrick Kane ($8,700): Kane has been brilliant for most of the season in route to leading the NHL in points scored. That success has also shown up in fantasy stat line including posting at least four fantasy points in three straight games.
RW – Loui Eriksson ($5,200): Since we went expensive with Kane at the other right winger position we elected to a little cheaper with this pick. That being said, Eriksson has posted at least three fantasy points in six of his last ten games including back to back games with at least 4.7 fantasy points.
C – Patrick Marleau ($7,200): Marleau is another great option tonight at the center position. Enter tonight, the San Jose Sharks center has 13 goals and 12 assists on the season.
C – Adam Henrique ($4,100): The New Jersey Devils center might not be the big name fantasy owners like to add but we need a few FanDuel bargains to build our entire lineup around. Henrique has the potential to put up some big time fantasy numbers for his owners including three games over his last ten with at least 5.3 fantasy points.
D – Ryan Suter ($4,200): Looking at cheap options to build our fantasy lineup around landed us with the Minnesota Wild defenseman. Suter is a buy/low type of player turning in at least three fantasy points in four of his last ten games but has also turned in a few negative performances.
D – Morgan Rielly ($5,000): As we looked through the lineups featuring the teams allowing the most goals in the NHL, we looked for a few FanDuel Bargains. One of those options is the Maple Leafs defenseman against the Coyotes.
G – Henrik Lundqvist ($9,500): Lundqvist might be the best option between the pipes tonight against a Anaheim team that has scored only 59 goals through their first 32 games this season.