Strategies
NHL Fantasy Steals
You may already have your favorites picked out for the 2013-2014 NHL fantasy hockey season, but what if you can't get all the players that you want? Here are a few sleepers that may go unnoticed by your competitors.
Let's start with the center from the Philadelphia Flyers. Vincent Lecavalier is a strong player coming off a tough year. He is sure to put up great stats, but may not get as much notice as he has in the past. Another player to look at in the center position is the Rangers' Derek Stepan. After the show he put on in the Big Apple last season, you may be surprised to find him on this list. The fact is that many fantasy league coaches will write him off due to the shortened season. You can capitalize on that error in judgment.
If you can handle having a 40-something on your team, the Dallas Stars Ray Whitney can get you some points. He averaged nearly a point per game during the shortened season with more than one third of his points being scored on the power play. Ageism is the only reason he'll be overlooked, but that's good news for you.

Also, check out Loui Erikkson. Who? That's right, the Boston Bruins right winger. He's playing alongside Patrice Bergeron this year. That should mean more goals and a high +/- ratio. He should go late in your pool and provide a lot of points.
What about defensive players? A lot of fantasy coaches are afraid to select rookies, but defense is a great place to take a chance. Seth Jones, one of the Nashville Predators, should be high on your list and low on everyone elses. He was picked 4th overall, but rookie concerns will have him go late in the pool. He'll be teamed up with veteran Shea Weber this year which will help him to make quick progress. He'll be an offensive threat as well when the opponents are short handed.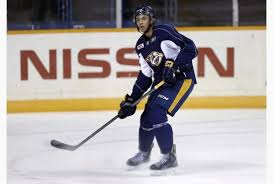 What about your goal keeper? The Vancouver Canucks have a new head coach and he's big on defensive play (maybe you remember him from New York). That should cause Roberto Luongo to recover from his sub par season last year. He's been a popular pick in the past, but his slump will make fantasy coaches gun-shy. That can result in a steal for you at the goalie position.