Strategies
NHL Predictions for your 2015-2016 Fantasy Hockey Leagues

The 2015/16 NHL hockey season is only a few day's old but the excitement has already settled in. The Chicago Blackhawks are the team on most people's radar as Cup favorites however they did lose their opener earlier this week against the New York Rangers. While one game won't do much to change people's opinions, at this time of year speculation abounds on who the division winners will be at the end of the regular season.
Atlantic Division
In the Atlantic Division, the Tampa Bay Lightning and Steven Stamkos are sure to turn a lot of heads this season. The Lightning are the defending conference champs, their star player is entering his prime, and they opened their season with a 3-2 win over the Philadelphia Flyers.
However the Montreal Canadiens should not be overlooked in this division, a team that also won their opener. The knock against Montreal last year was that they did not have enough scoring punch in front of PK Subban and Carey Price. However Max Pacioretty promises to have an impressive year on offense (he scored twice in the opener) and Habs fans can still hope that Alexander Semin rediscovers his scoring touch.
Prediction: Montreal win division
Metropolitan Division
The New York Rangers are the team that most are expecting to win the Metro this season and I am aligned with that popular opinion. Last year the Rangers tallied 113 points in the standings, a bar that may be too high to get to this season. However, on paper, they look practically as good as they did last season and their popularity among sports bettors is understanding (ie. the Rangers are second or third favorite to win the Cup with most sportsbooks; bet365).
But as much as you have to like the Rangers in and of themselves you also have to like them because of who they share a division with. The Pens only made the post-season last year on the very last day of the year. Over the off-season they added Phil Kessel to their team, a move that still has unclear ramifications. There seems to be a lot at stake with Crosby and Kessel clicking and I am not convinced it will work. Furthermore I think the Pens will need more than a point-per-game out of Evgeni Malkin and I don't think he'll do that this season.
I have far more confidence in the Rangers and, accordingly, they are my predicted division winner.
Prediction: Rangers win division
Pacific Division
I think the Pacific Division will produce surprises this season. Conventional wisdom holds that the Alberta teams will need time to develop into contenders. However, in my view, Calgary and Edmonton might both be under-rated at this point.
Calgary have youth and momentum following last season's surprises and Edmonton, besides Connor McDavid, have new leadership. I don't think fans, bloggers, and analysts understand how big the off-season coaching upgrade could prove to be in Alberta's capital. After all, Edmonton's Todd McLellan could prove himself to be one of the best coaches in franchise history by the end of his time in E-town.
However the Anaheim Ducks are the team that will win the Pacific in my mind. If Vancouver fades and if both Calgary and Edmonton disappoint, then with all the inter-division games (including ones against Arizona and rebuilding San Jose) the Ducks could feast. Injuries could knock Anaheim around as they could any other team – in which case I would like Los Angeles. However there's no going against the grain in this division in my view.
Prediction: Anaheim win the Pacific
Join DraftKings NHL SNIPER Today!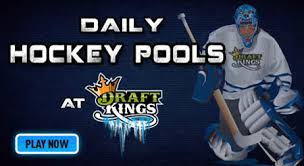 Central Division
The Chicago Blackhawks' playoff success last season was not preceded by a division title in the regular season. The St. Louis Blues won the Central Division last year and Ken Hitchcock will still be running the helm.
Although Hitch has underachieved in the playoffs since his days with the Dallas Stars and although he has been fired three times during his career, the following statistic will speak for itself. Since the 1996/97 season, when Hitchcock assumed a season-long coaching role for the first time, he has won eight division titles. Significant playoff success has eluded him for a while now but he is a master of the regular season when he has got some horses to work with.
In my view, there is more than enough in the current Blues' roster for Hitch to manage. St. Louis, with a win over Edmonton to start the season, are off to a good start and there may not be any looking back during the regular season.
Prediction: Blues win the Central division
Here are our picks for the various NHL awards.
Hart Memorial Trophy: Ryan Getzlaf
Vezina Trophy: Carey Price
Calder Memorial Trophy: Connor McDavid
Art Ross Trophy: Ryan Getzlaf
James Norris Trophy: PK Subban
Lady Byng Trophy: Patrick Kane