The Reviews
Rivalry Games Review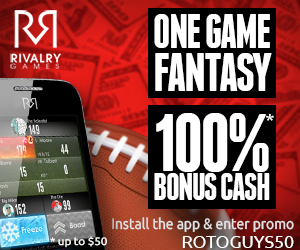 Rivalry Games is an innovative Fantasy Football/Basketball entertainment application, available both for iOS and Android. It allows all fantasy football and basketball fans to play fantasy games against their friends but also against people around the world. For beginners there is a "Play Money" option or for more experienced fans you can choose to play for real money. The app is available for phones and tablets. With the cultural success and presence of smartphones and social networks in mind, Rivalry Games will run entirely on mobile platforms as an app. Their entrance into the market began with America's pastime of fantasy sports: football. The football-centric app was released in the Android Marketplace on October 13, 2013 and in the App Store on October 22, 2013.
On February 3rd, 2014 Rivalry Games launched their NBA feature where fans enjoy engaging in skill-based basketball games with the possibility of winning cash prizes. It is also important to mention one of their more popular features which is that you can substitute players during the game. This can be very helpful if someone is underperforming or gets injured.
The user experience
The users of the app will be able to compete with their friends but also with strangers on a single-game basis. This ground-breaking method of playing fantasy games is meant to make each NFL/NBA game much more interesting and fun to watch. Rivalry Games is the only application available that allows its users to play single games.
The app offers a full-scale introductory tutorial, which allows the user to fully understand how to use all its features within a few simple steps.
When the user enters the app, he/she is presented with all the available games. That person can choose a game, choose his players from either side and even use the cool Boost feature the app provides. Of course, the app is free for download in the App Store and in Google Play.
Cash players can use their Facebook accounts to login and play instantly. The app also doesn't require a long-term commitment.
The games
Of course, everything happens in real-time and the user has the chance to see how his drafted team is performing as the game evolves. This means he has the opportunity to adjust his strategy and try to increase his chances to beat his opponents.
Summing up
In general, this is a one-of-a-kind application, since it is the only one available that allows its users to play single games. The app aims to make the experience of playing fantasy games better and different than it currently is, for any NFL/NBA fan. It also aims to making each game more interesting for every fan that uses Rivalry Games. Every fan can now use the app as each game evolves and benefit greatly out of his knowledge and luck, winning cash. The fantasy sports phenomenon has gone global, with millions of fans engaging in different contests to experience the thrills and fun that each competition may offer. Rivalry Games is in a prime position to introduce fantasy sports fans to a new market where they can profit from mobile technology to make the fantasy sports industry even more accessible. Make sure to enter Promo Code: ROTOGUYS50.