Strategies
Scott Van Slyke and the L.A Dodgers
Interesting things are occurring in the Dodgers outfield. Scott Van Slyke who hit a two run home-run Monday night in a 6-2 win over the Reds leads all Dodgers outfielders with a 1.060 OPS. All this at the cost of one-fortieth of the other outfielders on the team.
After a sluggish start the Dodgers are trying to shape things up and inserting Van Slyke into the lineup has been a good gamble. 11 of his 20 hits have gone for extra bases and he has walked 18 times in 40 games. Despite having fewer than one-third the at-bats of most regulars, he is fourth on the team with six home runs. His 6-foot-6 frame has not impeded him from being the second-best center fielder defensively for the Dodgers.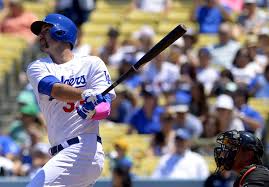 Dodgers manager Don Mattingly has the luxury of having a centre-field duo of Ethier-Van Slyke and left-field duo of Kemp-Crawford. Although Kemp and Crawford seem a bit unsettled as Kemp called it 'a little weird' when asked about his position switch. It is not surprise that Van Slyke is sound defensively as his father Andy was a 5-time Gold Glove winner in the 1980s. He has overcome tremendous amount of adversity to get to this point as he was a 14th round pick who was dropped from the team two winter's ago. He's still only 27 and makes the major league minimum salary. He's been valuable so far this season and may even be used as trade bait down the line if the Dodgers are looking to pick-up another player for the playoff run.
All in all, it's an interesting story that will be intriguing to watch depending on how the Dodgers season goes.