Strategies
Should Paul George be preferred to LeBron and Durant?

Paul George started to make his presence felt during the playoffs last season. Then and especially during the Eastern Conference Finals, he uplifted his performance on both ends of the floor and matched against LeBron James perfectly. This season, he is showing more of the same with the Indiana Pacers. He has emerged as the best player of the team and he is gradually establishing himself as a true superstar. However, should fantasy owners prefer him to Kevin Durant and LeBron James for their fantasy teams?
The truth is that George, aged 23 will need continue to play with consistency in order to solidify his value and his position in the elite of the NBA. We simply can't judge a player from a single playoff series or 10-15 good games into the season. However, there is truly no sign of him slowing down.
George is on a breakaway season currently, averaging 24.9 PPG, 5.9 RPG and 3.4 APG this season, all above his career averages.  He is also averaging 46.9 FG% and 39.4 3P%. Again, those numbers are above his career-averages.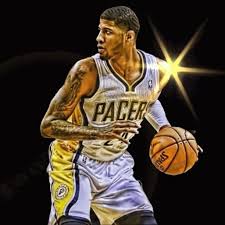 Are these numbers enough to put him over LeBron James and Kevin Durant? Obviously not. Or to put it better, they are not yet enough to put him over those two superstars. LeBron James is averaging 25.5 PPG, 6.2 RPG and 6.2 APG, while shooting 59.1 FG% and 45 3P%. Durant on the other hand is averaging 28.5 PPG, 8.2 RPB and 5.0 APG. He is shooting 4.64 FG% and 36.6 3P% this season. As it's now obvious, George will need some more ground to make up in order to be able to reach those two.
However, he has all the potential to do so, if he continues to improve his outputs, just like he did up to now. Of course, Durant and James are the two biggest monsters in the NBA fantasy-wise. However, at this stage, George is the one who holds the momentum, as his performance is gradually improving. On the other hand, LeBron James, much like the entire Miami Heat team seem to be an autopilot.
George has exploited the absence of Danny Granger. This current season and the one before, Granger has been battling through injuries and this game George a unique chance to emerge as the leader of the Pacers.
The latest outputs that George is putting up makes the entire NBA world wonder how far he can go. As he continues to grow and mature as a man and as a player, he is expected to become even more dominant. He has the physical abilities and the body-frame that will allow him to go much further.
Now, it's time for him to work on his consistency and also build a strong character. He will have to pass from many tests, similar to those LeBron and Durant have passed through their careers already. Nonetheless, fantasy owners should have him under the scope all season and they could trust him. They could even select him over Durant and LeBron, as he has the tendency to drastically improve his performance.