The Reviews
StarsDraft Daily Fantasy Sports (DFS) Product and Service Review

StarsDraft Overall Rating = A
When yet another billion dollar company decides to enter the market its probably time for even the general public to stop and take notice.  Long time investment and entertainment company Amaya Gaming has decided to join the the daily fantasy sports industry with the release of the newly revamped and rebranded StarsDraft DFS platform.  Formely Victiv daily fantasy sports, StarsDraft is a brand new addition to Amaya's growing roster of gaming based investments.  Also owners of Pokerstars the worlds largest online poker website it is safe to say not only does Amaya have the skills and resources to release top tier products but also the knowledge that comes with years of gaming entertainment experience.  A new product brand built behind the trusted names of the likes of Victiv and Pokerstars, StarsDraft is expected to draw significant attention and player bases.  Lets review the characteristics that may make StarsDraft one of the more appealing choices in daily fantasy sports today.
Founded: 2015
Founders and Backers: Amaya Gaming
Location:  7600 TransCanada Highway Pointe-Claire, Quebec H9R 1C8 Canada
StarsDraft Daily Fantasy Sports (DFS) Sign Up Bonus: Click HERE for most current bonus.
StarsDraft Daily Fantasy Sports (DFS) Sign Up Time and Information: 2 minute sign up process. Required information is Username, Email, Password.
StarsDraft Daily Fantasy Sports (DFS) Event Types: National Football League (NFL), Major League Baseball (MLB), National Basketball Association (NBA), National Hockey League(NHL).
StarsDraft Daily Fantasy Sports (DFS) Game Types: Guaranteed, Standard,  Head-to-head, Double Up, Satellite
StarsDraft Daily Fantasy Sports (DFS) Platform Types: Personal Computer, Tablets and Phones (Android, Apple)
StarsDraft Daily Fantasy Sports (DFS) Deposit Types:  Paypal, VISA, Mastercard, American Express,  Discover Card
StarsDraft Daily Fantasy Sports (DFS) Deposit Minimum: $10
StarsDraft Daily Fantasy Sports (DFS) Withdrawal Cashout Time: 2 – 3 days
StarsDraft Daily Fantasy Sports (DFS) Partners and Sponsors: Stats, Associated Press,
StarsDraft Daily Fantasy Sports (DFS) Social: Facebook, Twitter, Google Plus (G+), Pinterest,
StarsDraft Daily Fantasy Sports (DFS) Security and Support: 128 BIT Website Security.  Support by email: support@StarsDraft.com
StarsDraft Daily Fantasy Sports (DFS) Player Exclusions: Residents from Arizona, Louisiana, Montana, Washington, and Canada are currently not able play for real money on the site.
StarsDraft Daily Fantasy Sports (DFS) Current Promotions:
StarsDraft Bankroll Builder Tickets
–StarsDraft Loyalty Program
–Refer-A-Friend Referral Program
–100% Deposit Bonus Up To $250!
"StarsDraft will combine Victiv's innovative platform and experienced DFS team with Amaya's expansive consumer base and operational excellence as the world's preeminent online gaming brand"
"We intend to capitalize on what we believe is strong crossover between online poker players and daily fantasy sports. PokerStars is the most-trusted brand in online gaming and brings unmatched security, customer support and technical infrastructure that we believe all players can rely on."
– Chief Executive Matthew Primeaux (Victiv/StarsDraft)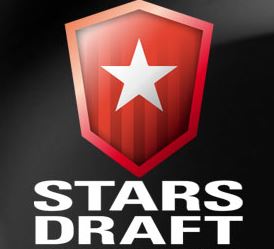 Can StarsDraft compete with the major daily fantasy sports players?  For now only time will tell but if  StarsDraft parent company's past gaming successes are any indication of what is to come then daily fantasy sports players should be excited to find out what this new daily fantasy sports platform may bring to the table in the future.  If you are considering broadening your daily fantasy sports horizons there is no better place to begin then a top rated daily fantasy sports experience like StarsDraft.  From the gaming background, to the free bankroll builder offers, to the the daily fantasy sports competitions and perks found at StarsDraft there is little to argue when it comes to value such a DFS site offers to players.  Thinking about trying out a new daily fantasy sports platform?  Time to make your favorite sports that much more exciting. Set up an account on StarsDraft today and dive right into some exciting and exhilarating daily fantasy sports experiences!
Why StarsDraft?
-Play Daily Fantasy Sports and Win Cash Daily Freerolls or For Real Cash!
-Quick and Easy To Use Lineup Building Tools and Contest Structures!
-Play 1-on-1, in Bigger Sized Player Tournaments or Create Your Own Special Events!
-Instant, Secure, Safe Account Funding and Quick, Easy Cashouts!
-American Based Entertainment and Gaming Group Operating 100% legal Games Of Skill!