Strategies
Sunday Fantasy NFL Preview


Sunday in the divisional round features games in which the favored team to win actually lost to their playoff opponent earlier in the season. The San Diego Chargers (9-7) defeated the Denver Broncos (13-3) at Mile High in Week 15, while the Carolina Panthers (12-4) beat the San Francisco 49ers (12-4) at Candlestick Park in Week 10. Each also features similar quarterbacks. Peyton Manning will take on another field general in Philip Rivers of the Chargers. Colin Kaepernick and Cam Newton, both young running quarterbacks, will face off in Charlotte on Sunday as well.
San Francisco 49ers at Carolina Panthers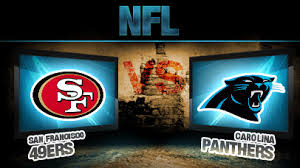 The 49ers have proven to be a dominant team in the playoffs, and beating Aaron Rodgers and the Packers in a freezing cold Lambeau Field only supports that fact. Beating the Panthers will prove to be a more difficult task.
Colin Kaepernick put on a show against Green Bay, but take away his rushing numbers and his stats are pedestrian at best: 16 for 30, 227 yards, 1 TD, 1 INT. The Panthers defense has allowed just 86.9 yards per game this season on the ground, second in the NFL. Kaepernick needs to stay in the pocket and trust his receivers. Michael Crabtree hauled in 8 receptions for 125 yards last week, and Anquan Boldin is having his best season in years. Tight end Vernon Davis has 13 touchdowns this season, making him a red zone threat. It's no secret that Kaepernick has good weapons at his disposal, but can he stay in the pocket long enough to use them?
The Carolina Panthers won 11 of 12 games to finish the season with the NFC's #2 seed. They are as good as anyone defensively, and Cam Newton brings a dynamic play-making ability to the offense, which has scored 30 or more points in 6 games. They are 7-1 at home this season, but can they stop the running attack of Colin Kaepernick? Can they force him to throw the ball? We'll find out on Sunday.
The Panthers are at home, fresh off a bye week, and have a slightly better defense than the 49ers. Nonetheless, I am picking the 49ers; they have the weapons and playoff experience to get things done on the road.
San Diego Chargers at Denver Broncos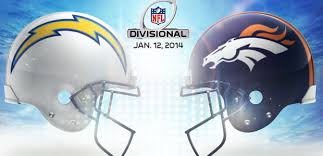 In Week 15, the Chargers beat the Broncos 27-20. The Chargers gained a lead early and the Broncos took too long to start scoring again. Denver was held to just 18 yards rushing, while San Diego RB Ryan Mathews ran for 127 yards and a touchdown in the victory.
Last week, Philip Rivers and company took apart the Bengals defense, with touchdowns by Ronnie Brown, Danny Woodhead, and tight end Ladarius Green. Rivers is having a comeback year so far, with 4,478 passing yards and a 105.5 passer rating in 2013. Look for a big game from Mathews and receiver Keenan Allen against a poor Denver defense.
Peyton Manning has broken multiple records this season at age 37. Demaryius Thomas, Eric Decker, and Julius Thomas have all proven to be the best receiving corp in the NFL. If Manning is given time in the pocket, he will deliver.
Manning knows that this is his last good shot to get a Lombardi, and he'll do whatever it takes to win. The Chargers have been good this season, at times great, but even San Diego fans know that Denver has the edge in this match up.