Strategies
Super Bowl XLVIII Preview

Next Sunday, February 2nd, the AFC's Seattle Seahawks will face the NFC's Denver Broncos in the forty-eighth Super Bowl. They will play in East Rutherford, New Jersey. The forecast calls for weather in the mid-twenties, low wind, and a low chance of rain; it's not ideal weather for a Super Bowl, but both the players and the fans will have to make do.
So now for the storylines. There are a ton of them in this year's Big Game. Weather is one of them. This will be the first Super Bowl played in a cold weather city outdoors. Expect the weather to force each team to run the ball a little more, since quarterbacks can have a hard time throwing the football when their whole arm is numb from the cold.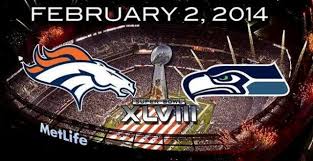 We also have the classic offense versus defense match up. The Denver Broncos were the league's top offense in scoring and yards. The Seahawks lead the league in points allowed and total defense. They say defense wins championships, but Seattle will have a lot offense to handle than normal come next Sunday, as the 2013 Broncos set the single season record for points scored with 606.
Peyton Manning, 37, will take on Russell Wilson, 25, in this year's Super Bowl. In some ways it will be a battle of old versus new, and it's not just the quarterbacks. USA Today ranked the Broncos as the fifth oldest team in the NFL, while the Seahawks were listed as the fourth youngest team. The Broncos team as a whole has more experience to work with, as the Seattle Seahawks don't have a single player on their roster that has played in a Super Bowl. Peyton himself will be playing for a second Lombardi, while Denver head coach John Fox has been to two Super Bowls himself.
Manning's arsenal of weapons on offense will be pitted against Seattle's "Legion of Boom" on defense. Denver's defense will have to face a dual threat passer in Russell Wilson, who can keep plays alive for what seems like hours. Which team has the edge overall?
The Broncos defense ranked nineteenth in yards allowed this season, while the Seattle offense ranked seventeenth in yards. So, numbers-wise, Seattle has the slight edge. When you throw in play-maker Percy Harvin, who was recently cleared to play, Seattle looks even better. On the other hand, Denver has a true field general in Peyton Manning, more experience, and are coming off of a crushing victory over the New England Patriots, in which they racked up over 500 yards of total offense.
Denver's offense features three receivers that are 6'3" or taller, creating a lot of mismatches against opposing defenses. Aside from tight end Zach Miller, all of Seattle's starting pass catchers are under six feet tall. Seattle is still a big play team though, so count on them to have a few big plays against an inconsistent Denver defense. Seattle halfback Marshawn Lynch could have a huge game as well. Lynch has already posted 249 rushing yards and three touchdowns in two 2013 playoff games. His counterparts, Knowshon Moreno and Montee Ball, should get their fair share of opportunities as well in the cold weather.
Despite both teams being, in many ways, polar opposites, this year's Super Bowl has no clear favorite. Five out of the last six Super Bowls have been decided by one score, and XLVIII doesn't look any different. Whether you're watching the game as a fan or for the commercials, it looks to be a very good game.