Strategies
The 2016 Fantasy Football NFL Wide Receiver Report

The slow march to the opening weekend of the 2016 NFL season is down to less than two full weeks with one final preseason game in the wings. Now while some of you have had your NFL Fantasy Draft Parties as well as your online drafts many have not. This is great news as we have seen a few key players go down with injuries over the past week including tight end Ben Watson and quarterback Teddy Bridgewater.
That being said we will roll on with our look at the top wide receivers in the NFL as well as a few sleepers that I like as the 2016 NFL season approaches. At the top of the list for everyone is wide receiver Antonio Brown who will look to continue his dominance and possible even break Calvin Johnsons receiving record in 2016.
Now as far as a few young stars to keep an eye on I am high on the wide receiver tandem in Jacksonville. Those receivers are Allen Robinson and Allen Hurns as the two continue to develop as stars along with their teammate Blake Bortles. Last season the pair both ranked in the top 25 in receving yars while finishing with over 1,000 yards.

Lets get started today breaking down the top 50 wide receivers in the NFL.
NFL Wide Receivers We Like in 2016
Antonio Brown, Pittsburgh Steelers: After posting a 1,834 yards in 2015 some believe he will take a step back in 2016. Now for season long owners this may be true but if you are looking to capitalize on him on Daily Fantasy Football sites early he looks like the top option for weeks one through three with LeVeon Bell out. Brown has caught no fewer than 110 passes while adding over 1499 yards in three straight seasons.
Allen Robinson, Jacksonville Jaguars: We love the Jaguars passing game and we expect to see some big things from them again in 2016. Last season, Robinson emerged as a true redzone threat pulling in a career high 14 touchdown passes to go with 1,400 yards receiving. If he and Bortles can improve on their connections (connected on just 80 of the 153 attempts his way) Robinson will see his catches top the 100 mark while possible seeing his yards total top the 1,500 mark.
Amari Cooper, Oakland Raiders: Now we also love Julio Jones and we expect big things form him but what is their not to love about Cooper? Cooper showed in his rookie season he has the talent to be a top tier wide receiver while pulling in 72 catches for 1,070 yards. Look for him and Derek Carr to build on last season helping his totals to increase including a double digit touchdown season in 2016.
Other NFL wide receivers we like in 2016 include Julio Jones, Brandin Cooks, T.Y. Hilton and Willie Snead.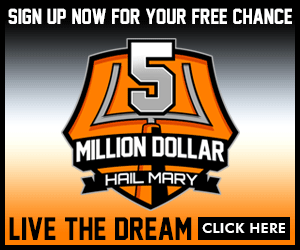 NFL Wide Receivers To Pass Up in 2016
Emmanuel Sanders, Denver Broncos: Just a few short seasons ago Sanders landed on with the Broncos after putting together some productive seasons. Now two years later, Sanders has pulled 177 passes for 2,539 yards. All of those numbers look great but this team doesn't have Peyton Manning of 2014 or even Brock Osweiler for parts of 2015. The teams quarterback issues will have a direct impact on the production that Sanders and his teammate Demaryius Thomas put up in 2016.
Larry Fitzgerald, Arizona Cardinals: For me this is a hard name to put on this list as he has been a favorite for a while and has been very productive in his career. This move is more on the fact I don't expect Carson Palmer to put up the same types of number in 2016 that he did in 2015 while having three good receivers to get the ball.
Other NFL wide receiver to pass up on in 2016 includes Jeremy Maclin, Eric Decker, Sammy Watkins and Travis Benjamin.
NFL Wide Receiver Surprises in 2016
Tyler Boyd, Cincinnati Bengals: I am very high on Boyd as the 2016 NFL season approaches for a few reasons. One he posses great potential with his size (6'2") and two he has shown at the college/preseason he can make plays. More importantly Boyd landed on with a team that has a top 3 receivers (A.J. Green) and one that likes to pass. Last season Marvin Jones pulled in 65 catches for 816 yards while Mohamed Sanu turned in 33 catches for 394. Now Boyd might not be a first tier option but we suggest adding him to your bench or take a sleeper on him in daily fantasy till his salary catches up.
Other NFL wide receiver surprises in 2016 include Breshad Perriman, Tyler Lockett and Dorial Green-Beckham.
2016 NFL Wide Receiver Rankings
1 – Antonio Brown
2 – Julio Jones
3 – Odell Beckham Jr
4 – Allen Robinson
5 – DeAndre Hopkins
6 – A.J. Green
7 – Jordy Nelson
8 – Alshon Jeffery
9 – Dez Bryant (Quarterback Concerns & His Health)
10 – Amari Cooper
11 – Mike Evans
12 – Keenan Allen
13 – T.Y. Hilton
14 – Brandon Marshall
15 – Randall Cobb
16 – Kelvin Benjamin
17 – Brandin Cooks
18 – Demaryius Thomas
19 – Donte Moncrief (Based on a healthy Andrew Luck)
20 – Sammy Watkins
21 – Golden Tate (Who will take over number 1 spot)
22 – Jarvis Landry
23 – Julian Edelman
24 – Doug Baldwin
25 – Allen Hurns
26 – Marvin Jones
27 – Jeremy Maclin
28 – Jordan Matthews
29 – Larry Fitzgerald
30 – Mohamed Sanu
31 – Tyler Lockett
32 – Kevin White
33 – Emmanuel Sanders (Concerns at quarterback)
34 – Eric Decker
35 – Josh Gordon (Stack him on your bench)
36 – John Brown
37 – Stefon Diggs
38 – Michael Floyd
39 – Willie Snead
40 – Tyler Boyd
41 – Devante Parker
42 – Michael Thomas
43 – Steve Smith Sr (PPR League)
44 – Will Fuller
45 – Mike Wallace
46 – Torrey Smith
47 – Breshad Perriman
48 – Sammie Coates
49 – Laquon Treadwell (Depending on QB situation)
50 – Josh Doctson