Strategies
The "Inside Scoop" from the Toronto Blue Jays
Rumours are swirling in Toronto about the potential availability of Cubs pitcher Jeff Samardzija. It has been suggested that if the Jays are still in the hunt at the end of July, Anthopoulos would make a move that would see Marcus Stroman and Aaron Sanchez go the other way.
At this moment in time the Jays are in first place in the AL East and have won six games in a row. It seems as though that division will be won by the general manager who will make the best moves. For the first time in a long time the Yankees, Red Sox and Rays, all look vulnerable. This season could very well be the best chance the Jays have had over the past twenty years to win the division and make the playoffs. It's time for Alex Anthopoulos to define his era as general manager and go for it. This is the year to take all the risks necessary to make the playoffs. Samardzija is an excellent pitcher with a great arm and big frame. He's versatile and a great athlete. Countless times we have seen top prospects fizzle out and many general managers get fired based on their dealings involving the clubs prospects. But, Samardzija is still young and can start many games. Not only would this be a positive move on the baseball side, but it would be a wise business move. The Jays can control his contract next season, and for this reason they should not wait until the trade deadline to make a move. They want to be the team that others are trying to catch.
Jeff Samardzija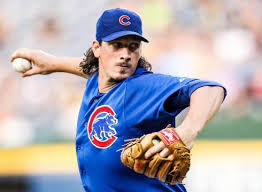 When Gibbons was a manager in the Mets farm system he once said, "You gotta go for it. You don't know how long these jobs last or how many opportunities you will get to win, So Go For It!" This is the mind-set Anthopoulos needs to have.
In other Jays news, Stroman was sent back down to AAA. This is the best decision for the young pitcher so that he gets more starts and is of more value getting more experience as a starter in the minors. He may also be in play for the potential Samardzija trade, so for marketing purposes it is better for him to pitch successfully in AAA. It's only matter of time Stroman pitches in the big leagues. The question is when and with which club.