Strategies
The Los Angeles Dodgers and what to expect



The Los Angeles Dodgers no longer have any excuses. Both Uribe and Hyun-Jin Ryu have returned from injury meaning all their hitters and pitchers are healthy. This is a healthy team with the highest payroll in the major leagues, yet they remain inconsistent and have yet to hit top gear. After losing the series to the Diamondbacks it is clear that the club lacks a bit of urgency that often defines championship teams. They are 5-9 since May 3 even though they have been getting some production from a lacklustre outfield. Even manager Don Mattingly has admitted that his team are 'waiting' to go on a run rather than taking the bull by the horns and playing like they need to win every game.
It is wrong to have the sort of attitude that with time everything will fall into place and their talent will take over. Eleven months ago they went on a crazy 42-8 run that pushed them past the Diamondbacks and into the playoffs. This year's team is more talented and has a better record thus far compared to last season. But, it's one thing to rely on your talent and another to think that talent alone can win games. Dodgers pitcher, Dan Haren played with the Nationals last year, who were expected to win the NL East and make a run at the Championship. Unfortunately they began to win too late. This is a prime example of what can happen to the Dodgers this season if they don't pick it up.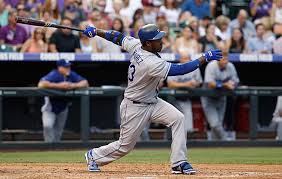 They are far from finished, as they sit just five games back of the Giants, but have yet to suggest that they will hit their stride. Often times their bullpen and defensive play get them in trouble. Sunday the Dodgers misplayed two balls causing an unearned run in the second inning against the Diamondbacks. Hanley Ramirez has made seven errors this season, and only two shortstops have committed more errors this season. Perhaps they will turn things around later in the season when the situation is urgent, but right now they don't look like they're playing as if the pennant is at stake.