News
The Sad "Flight" of the Blue Jays by Downtown Dave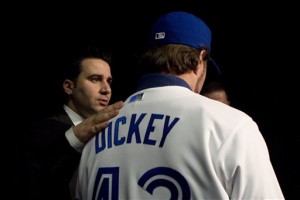 There have been quite a few surprises this baseball season, some of which my colleague Diamond Dan 'unearthed' in his Diamond in the Rough article on MLB players such as Bartolo Colon, Chris Davis and his impressive numbers giving Cabrera a run for his money and Addison Reed's pitching.
This is baseball in which the whole spontaneity and unpredictability of it makes it 'great'. Big contracts and big names only guarantees deep expenses and managing big ego's.
Many predicted that the Blue Jays had come full circle under GM Alex Anthopoulos and with a some solid signings and would put up impressive numbers. Most of those predictions came from the Blue Jays themselves.
While I think Toronto is great city and a notch above other Canadian cities in terms of economy and sheer size it tries hard to be as cool as Montreal and as interesting as Vancouver. It usually falls flat. Montreal and Vancouver are cities that don't to try hard at being unique they just have those elements in their mountains by the sea landscape or mix of franco and anglo "harmony" and diversity. What does this have to do with Baseball? All summer long we were sold on two near facts: Blue Jays will do great things and Alex Anthopoulos is the next Theo Epstein, Billy Beane, etc. This by the way is a term we utilize all too often. Billy Beane was unique and continues to be and Theo Epstein is an entirely different breed of GM. 
Alex Anthopoulos climbed his way up from mail clerk from the Montreal Expos eventually joining the Blue Jays in 2003 as a scout and assistant GM later replacing sitting GM JP Ricciardi in 2009. Impressive no doubt especially when we consider that he was 32 when he was handed the reigns of a major league baseball team.
The 2012 off season was filled with excitement, joy and pride for Blue Jays fans who had not seen a World Series since the early 1990's. What started with a blockbuster deal with the Miami Marlins adding Jose Reyes, Mark Buehrle, Josh Johnson, John Buck and Emilio Bonifacio to the lineup was followed by signing Melky Cabrera and ended the off season signing Cy Young Winner R.A. Dickey.
Aside from Blue Jays owners Rogers Communications have deep pockets every saw Anthonopoulos as making the right moves and not just Steinbrenner 80's style signings for big names.
There was a new sense of confidence with the Blue Jays and a city that loves nothing more than to utter 'this is the year' (Ask any Maple Leaf fan) they hoped on the Blue Jays bandwagon prematurely crowning Anthopoulos as a genius.
Fast forward 6 months, 3 months into the season and at the all star break and the Blue Jays find themselves sitting in last place a division by the way they were pegged to dominate. 
Why are the Blue Jays sitting at the same spot all season? Many reasons, below average defence, no clutch hitting and the numbers being put up by their starting pitchers case in points second fewest wins in the AL and ERA allowing the third most home runs in the league. The starters also have close to the fewest strikeouts in the league.
How did this happen? The Jays added Dickey, Buehrle and Johnson to the already starting lineup of Brandon Morrow, Happ and Romero. Pretty impressive. Instead they have had to look in the minors for help. 60% of these pitchers are failing miserably in unison. Add to that catcher JP Arencibia struggling in both offense and defense. Brett Lawrie has either been injured or playing like a minor league call up or veteran on his way out. Bonafacio has fizzled despite being expected to add that extra spark. Instead he has now fallen to a back up role in second base. There is enough here for Anthopoulos to worry about and not believe it is all injury based issues. While the Jays have have not had their original five starters in place since early April the off season acquisitions have fizzled almost instantly.
I don't see things changing despite the optimism of whatever patient Blue Jays fans are left and of course the brave face of Jose Bautista. After last summer's spending the Blue Jays execs will have hard questions about their GM and his moves.
By the way, I avoided many Blue Jays in my roster including R.A Dickey but I did pick Trout over Cabrera. Consolation prize, I picked Chris Davis way down 🙂