Strategies
The Value of Gregory Polanco for the Pittsburgh Pirates
The Pittsburgh Pirates called up their top prospect Gregory Polanco not only creating a stir in the baseball world but also the fantasy side. Polanco is a player that has been projected as a five tool player at the Major League level. The move will give the Pirates one of the games top young outfield tandems with Polanco, Andrew McCutchen and Starling Marte.
In his first appearance for the Pirates, Polanco picked up his first hit in five at bats. Polanco will be making his second start tonight in right field and will face Chicago Cubs starter Jason Hammel. While the buzz might be a little high for a player with five career at bats the future is bright not only for him as a player but one of the top fantasy players in the near future.
In 2012 at A ball Polanco put together a terrific season finishing with a .325 batting average. He showed his potential at all aspects picking up 142 hits, 26 doubles, six triples and 16 home runs. He also drove in 85 runs, scored 84 times and stole 40 bases. He followed that season up moving from high A ball all the way up to triple A appearing in two games at Indianapolis.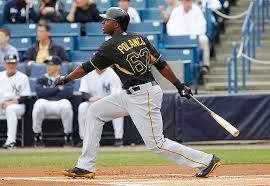 While spending time with three teams Polanco finished with a .285 averages along with 12 home runs, 71 runs batted in and 38 stolen bases. After his short stint in triple A last season Polanco started this season at Indianapolis and has been red hot. In 62 games he has hit .348 with 86 hits in 248 at bats. Along with the highest batting average he has also posted a.405 on base percentage and a .945 ops. 29 of the 86 hits have gone for extra bases, including 17 doubles, five triples and seven home runs along with 49 runs batted in.
Now it is hard to imagine what type of player he will become but for now he is one of the most attractive players on the market if he has not been picked up by fantasy owners. For daily fantasy owners it might be a little hard to play him early on but he could be a great play at a cheaper cost.
For fantasy owners in keeper leagues it might be a good time to evaluate your rosters. Polanco has the ability to hit over .300 with 25-30 home runs and 30-35 stolen bases making him a fantasy dream!