Strategies
Tony Gwynn: A Fantasy Baseball Great



A blog must be dedicated to one of the great hitters of our generation. Tony Gwynn. Gwynn will always be remembered as a player who spent twenty years lifting the spirits of San Diego with his All-Star play. His great impact on the city of San Diego has led to Petco Park's address being named 19 Tony Gwynn Way. He even has a statue right behind where he used to play: right field. If the name Cal Ripken says Baltimore, then the name Tony Gwynn says San Diego.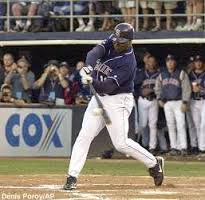 Many times Gwynn could have tested the free agent market and departed for a bigger club, but he always took the hometown discount and spent 20 successful seasons with the Padres. It became a family affair as Tony's brother Chris helped clinch the division during the 1996 season with his RBI in the last game, and his son Anthony played outfield for the Padres just like his father. His daughter Anisha even sang the national anthem for the Padres.
Gwynn was always a hard worker. He was the first major leaguer to videotape his at-bats. He would take early batting practice every afternoon  on gameday to try and improve his hitting ability. That's why he's a hall of famer and that's why he won eight batting titles with a career average of .338. He always said that his fear was going 0-for-5 in a game so he would hit over 100 balls to the 5.5 hole and then go back to the clubhouse….for some more chewing tobacco.
Gwynn started chewing tobacco at rookie ball in Washington. He was so paranoid that his swing would falter overnight that he would dip tobacco to make him relax. He would go through a can and a half of Skoal a day and this is what ultimately led to his demise. He was addicted to tobacco and it eventually led to cancer in his salivary gland in 2010. At the time of his diagnosis he was the head baseball coach for San Diego state and returned to that position following facial surgery, chemotherapy and radiation, but his face was partially paralyzed. He no longer had the strength to smile. He had temporarily beaten cancer but then it came back again.
He stated that the best moment of his career was his home run at Yankee Stadium in Game 1 of the '98 World Series, off of David Wells. His most disappointing was the 1994 baseball strike because his batting average was .394 and with four more hits he would've finished at .400 and would've been the first hitter since Williams to do that. Over the years, there were many jealous teammates (i.e. Jack Clark) and even upper management seemed threatened by his popularity. He should've ended his career as the Padres hitting coach but that never happened. Despite his physique he once stole 56 bases and earned five Gold Gloves over the course of his career. Overall, it was a memorable career that baseball fans will always remember.