Strategies
Top 10 Fantasy Hockey Rookies for the 2015-2016 NHL Season
The 2015-2016 NHL season has begun and there is already lots of talk about "The Rookie of the Year." You can't really take argument with that, when you see our list of rookies entering the league. Of course there's the two we already know of and surely won't be disappointed with, but if you aren't quick enough to snag one of them for your fantasy team, we found a few more that could lend a hand.
Connor McDavid – Edmonton Oilers – If you were lucky enough to draft McDavid onto your fantasy team, you have nothing to worry about. You know his hype, you know the stats. He'll be a solid anchor throughout the entire season, and if all the analysts are right, he'll exceed your expectations.
Jack Eichel – Buffalo Sabres – Once again, if you were lucky enough to draft him, you're good to go. Eichel will likely be just as interesting to watch and just as important to your fantasy team as Connor McDavid to his. Who knows, with the addition of some new faces and a fresh attitude in Buffalo, he might end up being the better choice.
Sam Bennet – Calgary Flames – Bennet is the highest draft pick in Calgary's history, and he actually played in 11 games last year during the playoffs. Before that, he was recovering from a shoulder surgery that put him out for most of the season. After rehabilitation though, he scored 11 goals, with 24 total points in 11 games with the Kingston Frontenacs.
Artemi Panarin – Chicago Blackhawks – A 23-year-old rookie that's been around highly skilled hockey in Russia since 2009, Panarin will join a high powered line with Artem Anisimov and Patrick Kane. He had 26 goals and 36 assists in 54 games last year for Saint Petersburg, and you can expect him to feel right at home in Chicago.
Nikolaj Ehlers – Winnipeg Jets – Ehlers killed it last year with Halifax. With 37 goals and 101 points in 51 games, he led his team into the playoffs. Once there, he had 31 points in 14 games. He's a solid choice for your fantasy team because he will need to be just as clutch in Winnipeg this year, and he probably won't have much trouble rising to the occasion.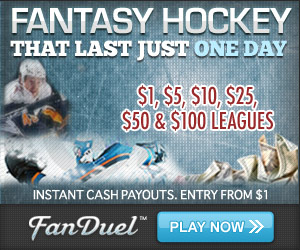 Dylan Larkin – Detroit Red Wings – You know a guy has something special when the Red Wings are willing to let him stick around, even though he's a teenager. That's something that hasn't happened in Detroit in the past 15 years. Larkin had 15 goals and 32 assists last year for the University of Michigan, earning the title of the Big Ten's Freshmen of the Year. Pavel Datsyuk will be out for at least another month after ankle surgery, so we should be seeing quite a bit of what Larkin can bring to the table in Detroit.
Max Domi – Arizona Coyotes – A rookie on a team that is looking to bounce back from a rough patch, Domi will have to prove himself early on in the season. That's a tall order after they went 24-50-8 last year, but Domi may be up to it. He has shown consistent improvement in the OHL, with 32 goals and 70 assists in 57 games played last season. If all goes right he could lead his team back from the brink and help your fantasy team along the way.
Sam Reinhart – Buffalo Sabres – The other rookie for Buffalo. I've included Reinhart on this list because he's got some solid experience in Junior and Minor, and his stats have been consistently good. I think he'll step his game up now that he will be playing on the same ice as Eichel, along with O'Reilly. He shouldn't have any trouble helping them score.
Mikko Rantanen – Colorado Avalanche – This is a little bit of an outlier on this list, because Rantanen's stats aren't fantastic. I'd call them average, maybe slightly above, with high potential for improvement. He was taken in the first round (10th overall) in this year's draft. But the exciting thing about Rantanen is that he will be playing alongside guys with potential for massive offensive success – Landeskog, MacKinnon, and Duchene. I think you will see Rantanen perform in fantasy stats on his own accord, or merely because of the company he keeps. 
Nic Petan – Winnipeg Jets – Petan is a machine when it comes to assists. In four seasons in the WHL, he has only had one year where he was under 70 assists. Winnipeg is going to be starting Petan on the fourth line, but if he continues his trend of helping out his teammates, you'll soon see him rise to the top. Without any injuries he could be a strong influence, looking for chances to help his team win and add points to yours.