Strategies
Top 10 NHL Picks for November 2015

Let's take a look at ten NHL players that seem to perform for their team and fantasy hockey teams on a consistent basis. This list is full of players that form the very foundation of their teams – meaning they're also a good choice for yours. Of course, everyone has their off days. But these are the NHL players least likely to be the anchor that sinks you to the bottom of the standings.
Henrik Lundqvist
The Rangers are 9-2-2 and you can chalk that record up, per usual, to Lundqvist's stellar performance between the pipes. He's started in 11 of those match-ups and has a solid GAA and Save Percentage – 1.80 and .945. You can count on him to keep that up all season long, barring an injury.
Jamie Benn
It looks like we can forget the surgery and offseason worries when it comes to Jamie Benn. For Benn, it's as if the offseason never even happened. He's picked up right where he left off at the end of last year and looks determined to put his team in the playoffs. He's got 20 points in 14 games – 10 goals, 10 assists.  Feel comfortable using him often.
Blake Wheeler
Currently fourth in the league in points – he's got 17 in 14 games, Wheeler's putting in some serious work up in Winnipeg. He's already been a major force in the fantasy stats and you can look for him to continue that trend. He'll get high playing time and lots of scoring chances because of his chemistry with Ladd and Little on the top lines.
Alex Ovechkin
Washington's captain has been leading by example early in the season. He's tied with Kuznetsov for a team leading 14 points. Last season's playoff woes are no doubt fresh in his mind – meaning you can count on him to perform consistently. Save some room on your team for him and you will rarely be disappointed.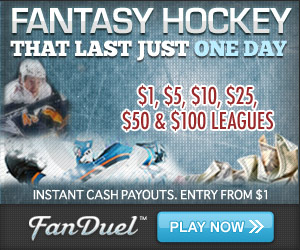 Carey Price
Carey Price is currently fighting off a lower body injury that will put his team in a rough spot for around a week. But when Price is on, you can bet that he's going to keep his team in the game and in the playoff hunt. He's got 7 wins on the season and once the injury is taken care of, you can use him to be your go-to in net.
Johnny Gaudreau
Gaudreau is the face of the future in Calgary, and they have to like what they see. So far it looks as if he missed the sophomore slump memo. He's got 14 points in 14 games – 12 assists and 2 goals. Any other second year player would be left off this list. You could argue inexperience and uncertainty. But this guy's a force on the ice that you want to have on your side.
Steven Stamkos
Stamkos has been a little bit of a slow starter this season, and he's been producing average fantasy numbers. But I don't mind picking him purely based on past performance. He's got to be hungry after the loss in the Finals, and you can bet that he'll be showing up in a big way soon enough.
Erik Karlsson
You've got to have a solid defenseman if you're going to have a chance to win. Karlsson and the Senators have had some struggles of late, but he's still third in defensemen when it comes to ice time. His history of shooting – and scoring – coupled with the ice time means that he'll rise to the top of the d-men at your disposal.
Patrick Kane
Patrick Kane doesn't seem to be phased by anything on or off the ice. He's started the season in classic form – 10 goals and 9 assists in 14 games. There's not much more that needs to be said about the man. He's almost never a bad pick.
Nathan MacKinnon
Roaring back from a sophomore slump, MacKinnon is currently seventh in the league when it comes to points, with 15. He's a bright spot on a worrisome team because he somehow finds a way to score and contribute on a nightly basis. Defensemen give this guy loads of room because they're spooked by his speed – use that to your advantage.