Strategies
Top 3 Daily Fantasy Sports News Updates For September 2016

One of the best times of year for daily fantasy sports we are starting to see DFS promotions and options really ramp up as we head into a winter filled with athletic contests.  Currently running Major League Baseball (MLB), Mixed Martial Arts (UFC), Racing (NASCAR), Professional Golf Association (PGA), Soccer (Liga, MLS, EPL, LMX), Canadian League Football (CFL) and eSport (LOL) daily fantasy sports (DFS) there is so much going on in daily fantasy sports it would be difficult for an avid fan not to be ale to find something to play they enjoy.  Not only is September "Self Improvement Month" which makes it a great time to work on ourselves as a whole but it is also a great reminder that there are always ways we can be looking for to improve our daily fantasy sports experiences as well.  As we launch into the start of September its an ideal time to reflect on what we value and enjoy while increasing our knowledge about the things we care about.  So it really does not matter if you are a daily fantasy sports newbie or a well versed expert there is always something exciting and new to learn about or participate in when it comes to the DFS experience.  Lets take a look at some of the biggest daily fantasy sports news announcements as we head into to September to get a better feel for what we can expect as we head into this favorable time of the seasons for DFS.
Daily Fantasy Sports Key News Update #3: FanDuel Updates and Rebrands

As if the FanDuel daily fantasy sports experience could not get any better it just did in a major way.  Just recently undergoing a massive product update and re-branding initiative FanDuel is now a brand new daily fantasy sports website while still holding all the appeal that made it an original fan favorite and pioneer of the DFS industry.  New features and characteristics include providing a "SPORTSRICH" playing experience (dream trips, one of kind sports memories, VIP exclusive access etc.), a new logo, Beginner contests, experience badges, third party script elimination, capped individual player entry, private contests, a Bill of Rights, wider variety of games and price points, employee exclusion and a new customer support center dedicated to answering questions quickly and efficiently.  All these improvements must have taken serious time and effort and should be applauded as they are all great for the game.  If you were ever skeptical about daily fantasy sports FanDuel has now put all fears, worries and concerns to rest with this new roll out as they have taken every measure to make DFS fan friendly and fun again.  If you hesitated about making a FanDuel account in the past now is the time to make the leap.  Your experiences watching sports will become that much better.

Daily Fantasy Sports Key News Update #2: DraftKings Introduces Custom Leagues

Tired of playing daily fantasy sports with a bunch of people you do not know?  Wan more creative control over the daily fantasy sports tournaments you enter?  Now you have all this and more at your fingertips with the DraftKings "Leagues" feature.  You can start your own DraftKings League competition by simply signing up for a DraftKings account and clicking the "Create a Contest" button. All DraftKings sports are available, as long as they also have current contests in the lobby.  Its the perfect time to start a new rivalry or re-energize an old one.  You can choose between Head to Head or Multiplayer while customizing the number of entrants, price of entry fee, and prize pool structure.  Using the DraftKings app, you can invite your friends by username, email address, text message, or social networks by sharing the appropriate access.  You can also invite friends to join via your Leagues page on the DraftKings website.  This is an ideal opportunity for anyone to finally create the daily fantasy sports they have always dreamed of.  It also makes for some interesting business promotional opportunities as well.  What are you waiting for?  Run the same contest or create an entirely new one every week to keep the competition going all season long!
Daily Fantasy Sports Key News Update #1: Daily Fantasy Sports Are Legalized In New York
That is right.  One of the biggest and most active daily fantasy sports states is back as of August 3, 2016, when New York became the eleventh state to sign into law the registration and regulation of daily fantasy sports contests within there jurisdiction.  While there are still a few details to work out as the law is in its infancy sites like DraftKings and FanDuel have been issued "temporary permits" to operate while the licensing nuances go through the paces.  This is great news for both players and operators alike.  Now that New York Governor Andrew Cuomo finally signed into law a bill that will officially legalize fantasy sports industry in the State after the State Legislature initially passed the bill there is reason to celebrate for all.  New York players will be back in action just in time for the Football and Basketball seasons start creating even more action and bigger prize pools.  Also daily fantasy sports operators will now have the freedom to conduct business in one of the biggest markets opening up even more opportunity for the industry to expand.  A safer playing environment with more players is what were getting here and what is not exciting about that.  We can hear everyone in New York rejoicing now and we just want to say welcome back and look forward to seeing you in the games!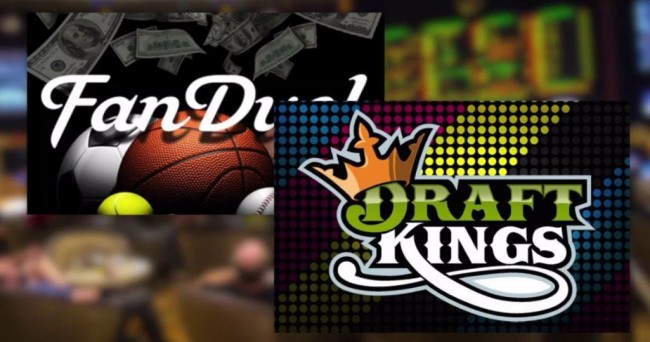 Always an amazing time when participated in responsibly daily fantasy sports are quickly becoming the best in game entertainment to enhance watching all our favorite teams and players compete in the games we know and love.  As the daily fantasy sports industry and communities prosper we can look forward to many, many more great months of new daily fantasy sports news announcements and updates to get jazzed about.  If you are hoping to stay on top of the latest in daily fantasy sports news and information be sure to check back with us often!  Staying abreast on the latest in daily fantasy sports market news is just one more way you can not only stay at the forefront of the industry but also facilitate a more positive and informed DFS participation level.