Strategies
Top 3 NFL Football Daily Fantasy Sports Week #1 Freerolls
Heard the news?  NFL Football is back but even more importantly daily fantasy sports is being incorporated into the game now more then ever before.  Long gone are the days of paper run fantasy office pools or hanging out at the house or bar with a few buddies for season long leagues.  As the evolution of daily fantasy sports continues and online season league features develop there is no telling how far fantasy sports can truly go.  As all the professional teams and daily fantasy sports websites start to join forces the potential to reach new and unimagined heights in sports entertainment are only becoming magnified.  So what does that mean for the fans?  For this 2015 / 2016 NFL Football daily fantasy sports season it means more free money offerings and enriching fan experiences available.  The great thing about the daily fantasy sports Freeroll offerings is that they are risk and cost free with many offering large payouts and prizes.  One of the biggest benefits of freerolls is they allow players to try different daily fantasy sports websites, game types and competitions while at the same time providing a platform to potentially win some money.  They can also be great bankroll boosters or builders as well as the perfect opportunities for methodology testing, lineup building experimentation and new player daily fantasy sports introduction.  Regardless of your reason for playing daily fantasy sports the time is now with so much free money up for grabs.  Lets take a look at the Top 3 2015 / 2016 NFL football opening kickoff weekend daily fantasy sports freerolls to preview some of the great chances for free money available too us.
DraftKings Free $100,000 Daily Fantasy Sports NFL Week 1 Freeroll Football Contest:
Shhhh.  Its a secret.  Of course it is no secret that DraftKings is one of best daily fantasy sports websites out there but these secret sign up Freeroll is only offered through a unique Twitter campaign.  If you have not already made an account on draft kings just do so now and find out how to make your way into this exclusive Freeroll available to only those "in the know".  Unlimited entrants and $10,000 to first for this tournament, so your spot is waiting.  Hey 100k is up for grabs.  Hard to ask for more…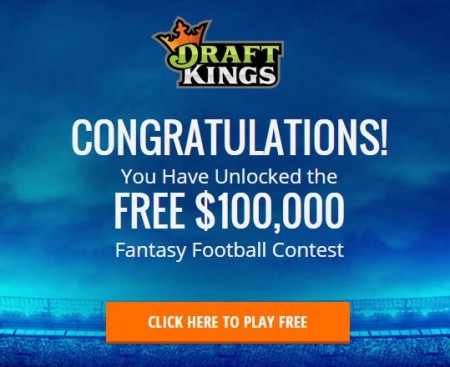 FantasyAces  $1,500 NFL Week 1 Daily Fantasy Sports Freeroll Football Tournament:
All you have to do is just draft a FantasyAces daily fantasy sports team consisting of the following 10 positions from the opening weekend game schedule below: (2)QB, (2)RB, (2)WR, (2) FLEX, TE, D . Each player has a base salary, and you have $50k to spend on your entire lineup. Score more FantasyAces daily fantasy points than your opponents & win some freeroll money.  This one has a $250 first place prize and cap at 10,000 participants.  From the FantasyAces $500,000 Fantasy Aces Football Championship, to the NFL Week 1: $50,000 Hail Mary to the College Football freerolls there is an endless amount of reasons to try the site out.  Hurry up and grab your seat before your spot is filled!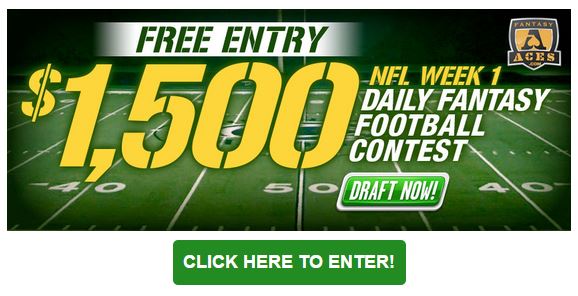 DraftFury Free Entry $1K NFL Kickoff Daily Fantasy Sports Football Contest:
New to the daily fantasy sports industry there is no denying that DraftFury is making a furious start to fan happiness.  Offering one of the bigger 2015 / 2016 NFL daily fantasy sports football opening kickoff weekend freerolls DraftFury is clearly excited to try and make waves in the market.  $100 to first in this particular freeroll and entrants are capped at 2000. From the DraftFury new "Anonymous Head-to-Head against people of similar skill" tables to the new format "Jackpot PickEm" there are plenty of reasons to join this great new fantasy site and the generous opening NFL weekend daily fantasy sports freeroll only makes it that much more tantalizing.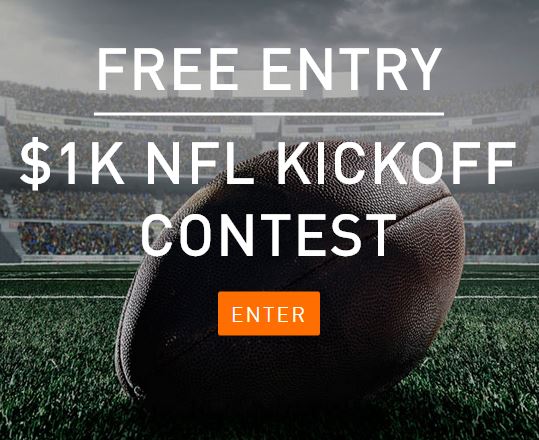 How long will this NFL football daily fantasy freeroll party last?  The answer is no one truly knows where the ceiling is for free money in daily fantasy sports but why wait and miss out when you can get in on the daily fantasy NFL action right now for free with chances at big payouts and prizes.  So check out the top DraftKings, FantasyAces, and DraftFury NFL freerolls and grab your seat in the tournaments.  What are you waiting for? Free money and fun is waiting…