Strategies
Fantasy NBA and what the Rotoguys think for 2013-2014.

The upcoming season is definitely going to be a drastically different one, in comparison to the 2012-2013 one. Thanks to all the changes that occurred around the league, the anticipation of the fans about the performance of their favorite teams is in high levels. Apart from the major star movement and the numerous trades, there are some players under the radar, who would be ideal choices for the fantasy leagues. Let's take a look on some of the top fantasy sleepers for the 2013-2014 season.
Eric Bledsoe
Eric Bledsoe is considered to be an All-Star caliber player. Playing behind Chris Paul in LA didn't allow him to truly show his potential and see much playing time. However, now, he will have a unique opportunity to showcase his true talent. The 23-year old guard will most probably be a starter, alongside Goran Dragic and he is expected to emerge as one of the team's leaders. Bledsoe will definitely be one of the major offensive weapons for the Phoenix Suns. He is expected to be the leader of the team in many stat categories, like points, steals and possibly assists. No matter if he ends up playing at an All-Star weapon or not, the certain thing is that he will be more productive than the previous seasons.
Patrick Beverly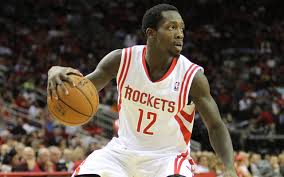 Patrick Beverly is an underrated guard, who could easily be a starter for the Houston Rockets. Despite his lack of NBA experience, during the 2013-2014 season, he did a decent job backing up Jeremy Lin. His numbers, 5.6 PPG, 2.7 RPG and 2.9 ASP certainly don't impress anyone. Nevertheless, Patrick Beverly left promises for much better performances this season. He will still start off the bench unless Lin gets injured, but he could see more minutes. That's what he tries to earn every time he steps his foot on the court. He has a three-pointer that goes down and this season things could get even easier for him, thanks to the dominant presence of Dwight Howard.
Wilson Chandler
Chandler might be the definition of a fantasy sleeper for the upcoming season. With Danilo Gallinari sidelined and his comeback not expected to happen any time soon, Chandler will be a full time starter for Denver Nuggets. An increase in his minutes translates in an increase in all of his stats.  He does have the talent and the quality as a player to defend the starting small forwad position perfectly and diminish the impact Gallinari's injury has to the team. The 26-year old forward averaged 13.0 PPG, 5.1 RPG and also 1.3 APG last season. All that in just 25.1 MPG. Now, as he will have a much bigger role in the Nuggets' rotation, his numbers will definitely raise. Fantasy owners should just have a look at his stats during the eight times he started last season. His numbers boomed to 19.0 PPG to go along with 6.0 RPG and 1.4 SPG. If he retains his health, then there is no reason he won't be able to perform as well, maybe even better.