Strategies
Top Rookie Fantasy Sleepers for Week 1 of the 2015 NFL Season
 JOIN FANDUEL'S $250K Thu NFL Rush Today!

The final week with out NFL football has come to a close as fantasy owners prepare for week 1 of the season. Up to this point most of the emphasis has been put on season long fantasy drafts. Now with those drafts out of the way we can all start to focus on week 1 of the daily fantasy season. This includes all the major daily fantasy sites as well as both FanDuel and DraftKings who both have million dollar week 1 prizes.
These next few days continue to monitor our website for a variety of different articles to help you along the way as well as a few of our other articles about top fantasy quarterback sleepers. Today we want to focus on the top fantasy sleeper options from the 2015 NFL draft class. Last season we saw a break out game from Odell Beckham Jr in week 5 after returning from an injury.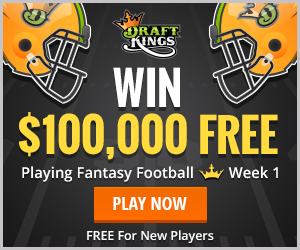 This year all eyes will be focused on a few of those top star rookies including Melvin Gordon, Todd Gurley and even Amari Cooper. For us we are looking at little deeper for a few players who have the potential to put up solid fantasy numbers from the start but also provide your fantasy team some salary cap relief.
Here are our top rookie fantasy sleepers for week 1 of the 2015 NFL season.
1. Ameer Abdullah, Detroit Lions (FanDuel – $5,900 / DraftKings – $4,000): At this point it is hard to predict how much Abdullah will be factored into the teams running attack. That being said the Lions offense can move the ball down the field as good as anyone else in the NFL. If Abdullah shines early we expect him to compete for the starting job for most of the season.
2. Maxx Williams, Baltimore Ravens (FanDuel – $4,800 / DraftKings – $2,700): For us this might be one of the top fantasy options of the week at the tight end position. Since entering the league we have seen Joe Flacco favorite the tight end position including players like Todd Heap, Dennis Pitta and even Owen Daniels last season. If Breshad Perriman misses the game Williams impact will be to the Ravens success against the Denver Broncos.
3. Nelson Agholor, Philadelphia Eagles (FanDuel – $5,500 / DraftKings – $5,700): With the potential for the Eagles offense to be one of the tops in the NFL we love Agholor early on before his salary number starts to rise. Looking for Sam Bradford to spread the ball around in week 1 will allow Agholor to use his route running ability to make a few big plays.
4. Karlos Williams, Buffalo Bills (FanDuel – $4,500 / DraftKings – $3,000): The former Florida State star is another Fantasy Sleeper to watch out for early on especially if LeSean McCoy is dealing with injuries. That being said Williams is one of those gamble plays for week 1 espicially not knowing exactly if McCoy will be ready to go and at full health. The Bills will look to run the ball against the Indianapolis Colts to keep Andrew Luck and their offense off the field.
5. Stefon Diggs, Minnesota Vikings (FanDuel – $4,700 / DraftKings – $3,000): We really like the potential Diggs brings to the football field with his big play abilities. Despite not having a good quarterback at Maryland we saw Diggs make enough big plays to know he can play at the NFL level. We expect the Vikings coaching staff to get creative early and often to put the ball in Diggs hands in week 1.
Other rookie fantasy sleepers we like include Tyler Lockett, Sammie Coates, Jalen Strong, Bell Blake & Duke Johnson.