Strategies
What impact will Danny Granger's return have to the Indiana Pacers?

The Indiana Pacers are surging this season. They currently hold a league-best 20-3 winning record. All fans of the team as well as fantasy owners who have selected members of the team should feel excited. One more reason for all Indiana fans to feel excited is the upcoming return of superstar Danny Granger. The 30-year old forward is just about to return, possibly in the next game. But what does this really mean to Lance Stephenson, Paul George and the rest of the team? What should fantasy owners pay attention to?
Granger will return to action after missing the biggest chunk of the 2012-2013 campaign and also after playing just five games this season. Granger was one of the most anticipated stars returning from injury this season, together with Derrick Rose and Kobe Bryant. He was supposed to return to action and emerge as the leader of the Pacers. With 18.1 points per game for his career, Danny Granger certainly changes the dynamics and the setup of Frank Vogel's team. But now, Paul George is rapidly emerging as a superstar-caliber and that means Granger will no longer be the leader of the team but rather the co-leader.
Paul George has exploded for 24.1 PPG, 5.6 RPG and also 3.5 APG and also 46.6 FG% and 41.6 3P% this season. He has emerged as one of the top 5 fantasy selections for fantasy leagues. Some owners even place him at the top 3, together with LeBron James and Kevin Durant.
Now, with Granger on his side, George's performance will certainly be altered. He is a player that needs the ball in his hands. He will take many shots for the Pacers. In the end, we might see him combining perfectly with George. But George's numbers will certainly be affected.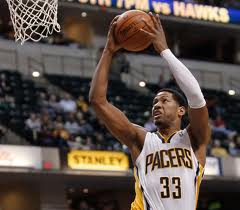 Danny Granger might reach a 15-point and 5-rebound average this season, if he manages to stay healthy. Of course, he might need a few weeks to adjust his body and find his touches.
Lance Stephenson will also be affected. Frank Vogel will most probably switch him to the secondary unit which will translate to a slight reduction in his minutes and numbers. His scoring, rebounding and assists will most probably be affected. Stephenson currently ranks fourth in scoring for the Pacers.
Roy Hibbert and David West will most probably see a slight change in their numbers, too. As Granger will take more responsibilities on offense, Hibbert and West will most probably see a few less shots.
The rest of the role players will also see difference in their minutes. Orlando Johnson and Chris Copeland will be affected, as Granger will dominate their minutes. Fantasy owners should pay attention to this one.
In overall, the Pacers will certainly see an upgrade in their firepower with Danny Granger onboard. Nonetheless, Frank Vogel will have to find a good balance between him and Paul George. The Pacers do have a great momentum and they should try to retain it, utilizing Granger the best way possible.