Strategies
Who should you get into your NFL fantasy team roster

Nobody needs to be told that starting with Aaron Rodgers, Adrian Peterson, or Calvin Johnson is a good idea. You can't have studs at every position, unless you're in the shallowest of leagues. This is where we come in. Need help deciding which quarterback? Looking for solutions at running back because Peterson is a game-time decision?
In a battle that pitted the Chargers' current franchise QB vs. the franchise QB that famously spurned San Diego, Rivers got the best of Eli Manning on December 8th, outscoring the Giants' struggling signal caller by a healthy 7.5 fantasy points in the Bolts' blowout win. That moved Rivers into a tie with Cam Newton for fifth overall at the QB position (23.4 points/game). This may surprise you even more: Rivers is now on pace for a career high in fantasy points. Not hampering that effort will be a potentially prolific.
At for Chicago's QB controversy, do the Bears possesses two legendary quarterbacks? Or rather, Marc Trestman is the envy of most NFL coaches these days because he possesses two super sized and super talented receivers who would make almost any triggerman look good. It doesn't really matter who lines up under center in the Windy City, in other words, so long as he's throwing to the devastating combo of Brandon Marshall and Alshon Jeffery. Those two have combined to average almost 14 receptions and 212 yards per game the last three weeks and each would command permanent double coverage if opponents could afford to put that many DBs on the field.
If you have been waiting all season for Manning to wake up, it's too late. He has already cost you a playoff berth, most likely, and if he hasn't, he's about to cost you a championship. Despite facing San Diego's below-average secondary last weekend in a game he should have been plenty motivated to win, the two-time Super Bowl MVP did the bare minimum. He managed only 259 passing yards and a score for a measly 17 fantasy points. Predictably, he got boat raced 37-14 and probably can't wait for his disastrous 2013 campaign to end. There are a lot better teams to face when playing out the string than a ticked-off Seahawks squad that just got nipped in a divisional grudge match. Seattle is yielding 15.7 points/game to opposing QB's, tops in the league, and should ensure Manning's season is his worst since 2008 this Sunday.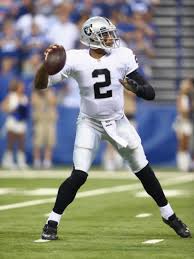 As if on cue, the Raiders went back to Terrelle Pryor last Sunday and indicated they'll use him again this weekend; a tandem is approaching that's exceedingly rare at the college level and virtually unheard of in the NFL. Here's what it means: "We don't really know what we have as QB so we're going to give both guys a chance and see what happens." Pryor was the starter back in October and here's what happened then: 18 for 34, 216 yards, a score, three picks, and 60 yards rushing. There's really no reason to suspect McGloin can top that as he's not a threat to run and the Chiefs are giving up only 17.2 points/game. If the past is any indication of the future, the Rotoguys have cleared the path with respect to your fantasy football drafts for the last few weeks of the NFL season.