Strategies
What to Expect when Expecting : 2013 for Colin Kaepernick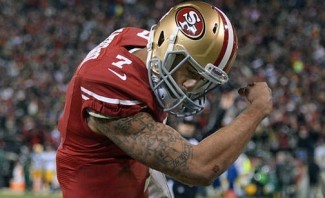 An argument can be made that not much was expected of Kaepernick who was drafted by MLB's Chicago Cubs two years before attracting any interest from an NFL team. Fast forward to 2011, his current team the San Francisco 49ers traded up with the Denver Broncos to pick him up in the second round (#36 overall). Things changed.
In 2011, he spent most of the season as a back combining for 24 of 50 passes for 257 yards and 5 interceptions. His second season (2012) development into something out of a storybook. Initially used as a wildcat quarterback, by week 10 Kaepernick replaced Alex Smith after a concussion. Kaepernick went on to tie the game and beat the Bears 32-7 on Monday Night completing 16 of 23 for 246 yards with two touchdowns and no interceptions. Coach Jim Harbaugh decided to sit a ready Alex Smith and start his new dynamic QB against the Saints who they went on to beat 31–21 with Kaepernick throwing for a touchdown and running for another.
We know the rest, Kaepernick remained the starter including in the post season with wins over Green Bay and Atlanta eventually losing to Baltimore in the Superbowl.
Whereas the young man from Wisconsin came in with little expectations 2013 is a complete turnaround and expectations are high from both the football world and the fantasy footballers looking for solid top ranking QB's in their line up. One can even say that expectations are at an all time high with first round pick Alex Smith having being dealt to the Kansas City Chiefs confirming with absolute certainty that Kaepernick will lead this team under Harbaugh.
It would be tough not to see Kaepernick as a top pick in anyone's team: he is young and despite his past season still has a whole career ahead of him: let's not forget he only has a half a season as a starter. After Smith's unfortunate injury, Kaepernick never looked back and took total control of the offense leading up to a surprise Superbowl appearance.
The critics say to proceed with caution claiming Kaepernick's out-of-nowhere rise is what allowed him to succeed. Coaches and their staff did not have time to adapt to his playing style of 'figure him out'. Time has passed and his third year (actually second) may very well be a risky one for the young Quarterback. He is on many defensive radars and teams have had all summer to develop ways to exploit his weaknesses.
I don't expect Kaepernick to came out in 2013 like he left the majority of the 2012 season without missing a step: he is young, figuring out his game and starting role and there is the pressure of leading a team so desperate for a new Montana or Young and 5th Superbowl. That said, I would bet the opposite: we have only seen the beginning: is an incredible athlete with a dynamic arm, quick, lighting fast including explosive tendencies: perfect mix of strength and talent. I don't see Kaepernick being restrained by teams but rather the only question is how he will handle the pressure of being the undisputed starter on a team like the 49ers with huge expectations and commanding coach like Harbaugh. Taking a step back, the whole future of this particular team may center on Kaepernick: the 49ers and Harbaugh placed a huge wager on Kaepernick being their man for many years to come…failure to do so would effectively mean utter disaster for the organization.
That said, handling pressure, stepping up to the podium and dealing with the intangibles is something he can only pick up with experience. Having said that, Kaepernick will be my starting QB this season .. I'm a gambling man.
Downtown Dave's Bottom Line:
Kaepernick's physical attributes are a long form amalgamation of Dan Marino (arm) Michael Vick and Steve Young: power (Marino), vision & diversity (Young) and explosive running skills as QB (Vick). He is one of those quarterback's that make running a 40 yard touchdown like easy. Steven Young looked like he was about to steam rolled from one moment to the next slipping and sliding out of reach, Kaepernick looks like the d line has suddenly been parted by Noah and cannot be taken down: reminiscent of the 2006 movie Apocalypto and the tribesman running throw the jungle without fatigue or emotion.
Risks: One of his favorite partners Michael Crabtree is gone for at least 10 weeks and that raises questions .. not to be taken lightly. The pressure on guys like Kap and RGIII are immeasurable this season: their inability to handle it will spiral them into a possible catastrophic season to the point some never recover. That said, Kaepernick's stats are staggering and even scary: seven regular-season games last year, pro rated all season would have been 3,675 pass yards, 544 rush yards, 23 pass TDs and five rush TDs. Sold!