The Promos
DraftStreet's Win a Free Seat for the FFPC!
$250,000 Grand Prize Main Event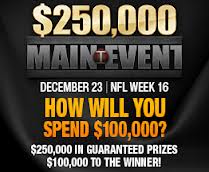 Do you also like to play in season-long fantasy football leagues? We'd like to introduce you to our friends at the FFPC (Fantasy Football Players Championship), the leader in season-long high stakes fantasy football. The FFPC has given us a seat in their 2013 Main Event to give away in a MLB freeroll on Friday, August 16th. This seat is worth $1,650 and will put one of you into the FFPC Main Event with a $250,000 Grand Prize and $1.5 Million in total prizes! FFPC will contact the 1st place winner. Check out the FFPC at www.MyFFPC.com for all their great season-long contests.
FFPC MLB Freeroll

•

1st Prize: Free Seat to 2013 FFPC Main Event

•

2nd – 4th share $500 prize pool

•

No entry fees

•

Starts Friday, Aug 16 @ 7:05 PM ET