A pioneering leader in social gaming and marketing FantasyDraft, LLC. of Cornelius, NC December 2014 launch is now capturing the attention of daily fantasy sports players everywhere. Headed by Grant Yoder, FantasyDraft, LLC. CEO the company takes a unique, fresh and innovative approach to developing its daily fantasy sports software. Built by avid sports fans who have been participating in fantasy sports since the 1990's it is clear to see that FantasyDraft, LLC. takes pride in its product. Holding a mission statement of "provide our customers with the best possible fantasy sports experience" the company goes to great lengths to not only constantly improve the daily fantasy sports experience but to gather feedback from players and implement the recommendations that make the system better. Lets review what makes the FantasyDraft, LLC. state-of-the-art daily fantasy sports platform so engaging and player friendly.
FantasyDraft Daily Fantasy Sports Sign Up and Deposit Review:
Signing up for an account at FantasyDraft is very straightforward and requires little time or effort. After filling out a quick general information form you are ready to get started. For those that want to test out the website or practice there daily fantasy sports skills there are free games running in the lobby. For the players that want to compete for real money FantasyDraft offers a wide selection of deposit options and game types. Players can fund their FantasyDraft account with Paypal or with a major credit card from Visa, Mastercard or American Express which makes money transferring feasible and flexible. With minimum deposit and withdrawal limits of $5, FantasyDraft is affordable for most daily fantasy sports budgets. FantasyDraft follows all rules and regulations which prevents them from providing services to residents of Arizona, Iowa, Louisiana, Montana, Vermont, Puerto Rico, and Quebec. Getting familiar with the functionality of FantasyDraft is a quick process making it easy to jump right into the offered daily fantasy sports contests.
FantasyDraft Daily Fantasy Sports Contest Type Review:
Available daily fantasy sports events at FantasyDraft include Major League Baseball (MLB), Professional Football (NFL), College Football (CFB), Pro Basketball (NBA), College Basketball (CBB), and Professional Golf (PGA) creating something interesting for all types of different fan preferences. Some of the mentioned sports are still in development so it is worth checking FantasyDraft often as they are constantly adding new features and games. In combination with your favorite sports, FantasyDraft provides a wide variety of contest options to select from. Event types like Leagues, 50/50's, Head-To-Head, Tournaments, Guaranteed, Beginner, are all part of the FantasyDraft daily fantasy sports playing repertoire. Buy in's range from $0 to $215 making FantasyDraft accessible to various levels of daily fantasy sports budgets and risk tolerance preferences. There are many great reward options as well making building a daily fantasy sport bankroll on FantasyDraft very feasible.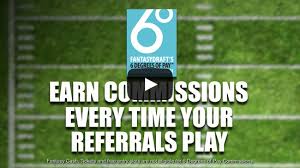 FantasyDraft Daily Fantasy Sports Bonus, Promotions, Perks Review:
Placing emphasis on customer satisfaction, market innovation and value creation for clients, FantasyDraft is dedicated to building the ultimate daily fantasy sports playing environment. Generous deposit bonuses, an expansive player referral program and a rapidly expanding roster of athlete endorsers are just a few of the attractions that make daily fantasy sports at FantasyDraft extremely appealing. Sponsored athletes and celebrity sports spokesman include T.Y. Hilton, Jordy Nelson, London Fletcher, Shannon Sharpe, Drew Brees, Boomer Esiason, Jimmy Johnson, Andy Dalton, Kevin Love and Clayton Kershaw giving players the chance to interact and compete with some of sports favorite stars. In addition to the big name stars the FantasyDraft "6 Degrees of Pay℠ Referral Program" is one of the best in the daily fantasy industry which is another huge draw to the website. Featuring six tiers of payout levels players can create a pyramid of referred players that is both robust and rewarding and unique in the sense that earnings are created through every connected channel of the referral process. As if the above was not enough reason to give FantasyDraft the second to none customer service and security will gain your loyalty.
FantasyDraft Daily Fantasy Sports Security and Support Review:
FantasyDraft is an acknowledged and approved member of the Fantasy Sports Trade Association (FSTA) and a partner with industry leading data provider SportsData giving it the credibility and third party backing that every legitimate daily fantasy sports site needs. As a member of the FSTA FantasyDraft is required to segregate customer funds from operating funds, bank with a top 5 US based banks, follow "Know Your Customer (KYC)" banking rules and guidelines, comply with UIGEA and state laws giving which assures the company is operating a fair, safe and stable playing environment. Also aligning with other daily fantasy sports interests like Weather Underground and RotoWire it is evident FantasyDraft takes pride in giving players as much daily fantasy support and protection as possible. In addition to all of these great daily fantasy sports partners FantasyDraft offers an extensive "How To Play" section on the website that includes tutorials and links to fantasy draft basics, contest types, scoring & rules, frequent questions and support giving customers even more tools at their disposable to assure they well informed and protected. You will find upon signing up that there is little FantasyDraft lacks when it comes to taking care of its players.
Led by a diverse, well rounded and experienced team of professionals FantasyDraft, LLC. is committed to providing the most exciting and innovative daily fantasy sports experience possible. Backed by an investment group led by Charlotte-based entrepreneur and business owner Robert Stevanovski the FantasyDraft, LLC. board of directors includes senior members of The Jordan Company, a private investment firm, with more than $8 billion in committed capital lending even more credence to its credibility. Do not know what the future of daily fantasy sports looks like? Sign up to FantasyDraft now to find out!