Strategies
Daily Fantasy Golf June 2016 Roundup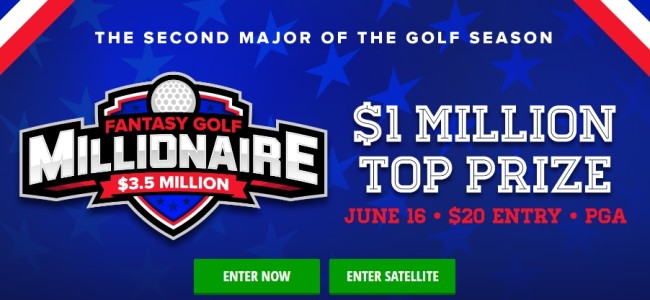 Summer is finally here and while that means warm days and hopefully a few beaks by the pool, lake or river it also means its the optimal time of year to hit the links with a few partners.  Like peanut butter and jelly, summer and golf were meant to be together so what better way is there to spend some time outdoors in the upcoming months then on the course.  With the excitement of summer and major golf on the horizon so to does the daily fantasy sports golf discussions start to heat up.  With many of the top daily fantasy sports websites now offering mobile apps not only can you get a few rounds in you can do so while watching your favorite daily fantasy sports golfers in action.  As golf schedules intensify everywhere there is no shortage of daily fantasy sports golf options available to players and DFS companies are beginning to put an emphasis on this.  Lets take a look at some of the exciting daily fantasy sports golf news that has just been recently released as we head into 2016 and many months of tee times and clear and blue skies.
Daily Fantasy Sports Golf News #3: FantasyDraft Opens Golf Tournaments

FantasyDraft just recently posted their first daily fantasy golf tournaments of the season and it looks like this trend should continue.  With such events as the FantasyDraft "$5,000 Tour Card" $25 buy in golf contest and the FantasyDraft "$1,500 Q School" $5 buy in content and the "$400 First Tee" $1 buy in tournament along with plenty of double ups at various price levels this is sure to be an exciting time for DFS golf.  FantasyDraft has great contest structures and payout at least 25% of entries in their guaranteed contests making it one of the most optimal places to play in all of daily fantasy sports.  Very much worth checking out and signing up for a FantasyDraft account to make sure you are ready for when the next daily fantasy sports golf tournaments are posted.
---
Daily Fantasy Sports Golf News #2: Fantasy Aces Golf Contest

If you are still skeptical about daily fantasy sports, want to try something new or just want to add some extra enjoyment to your golf watching then the Fantasy Aces PGA $30,000 OPEN CHAMPIONSHIP are the perfect fit for you.  Real cash prizes on the line and usually over a 100 entrants it is the perfect platform to not only test and hone your golf skills but try it out if you never have before. One of the best parts of daily fantasy sports golf is that freerolls do come up from time to time giving us an ideal opportunity to have some fun for free.  If you have never tried daily fantasy sports golf then signing up for FantasyAces DFS golf is an awesome chance to get in the games.  Sign up for a FantasyAces account and try it out.  You have nothing to lose!
---
Daily Fantasy Sports Golf News #1: Draft Kings Improves Golf Data Feed and Adds European Golf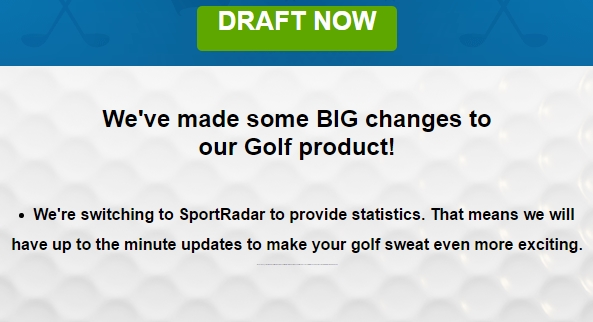 The most exciting recent daily fantasy sports golf announcement has to be that Draft Kings is making big changes to its DFS golf product.  First off they released a new partnership with daily fantasy sports data provider SportRadar who will now be providing statistics.  Not only will data improve overall but it also means precise up to the minute scoring updates making the daily fantasy sports golf experience even more exciting. Second Draft Kings has added the European Golf Tour to its roster of daily fantasy sports offerings.  The European Tour is played year-round with stops in China, Australia, South Africa and Thailand.  This is huge for DFS golf and will provide so much variety and new playing options for golf fans.  Finally Draft Kings has announced the $1 Million Dollar Fantasy Golf Tournament for June 16th 2016.  First place prize is a million dollars and the buy in in is only $20 per entry.  Great chance to try and make your way into the daily fantasy sports millionaire club.
With summer almost here and all of the exciting daily fantasy sports golf news above how could you not be getting pumped up for what's coming up for DFS golf.   The wonderful part of daily fantasy sports is that with all the new DFS mobile apps being released you can literally being playing golf while playing DFS golf without missing a beat.  What are you waiting for?  Sign up for a FantasyDraft, Fantasy Aces or Draft Kings daily fantasy sports account and start swinging at huge at huge prizes and even more fun!