The NBA Schedule is solid to open up the week as DFS owners look to cash in on FanDuel tonight. In all six lineups are on the NBA schedule including a few key matchups that could see a ton of points scored. One of those matchups will take place out West at the Oracle Arena as the Golden State Warriors welcome the Phoenix Suns to town.
While this is a contest that DFS owners might want to jump fast on guys like Kevin Durant and Steph Curry. For us though, while both look like great options a big lead early could lead to both seeing additional time on the bench resting in the second half. That said, this matchup still has value with guys like TJ Warren, Elfrid Payton and Josh Jackson while Klay Thompson could see add more opportunities to score late.
Before we take a look at our Fantasy Sleepers and Fantasy Basketball Options for DFS owners to consider tonight, here is a quick look at the six games on the NBA Schedule for Monday February 12th, 2018.
NBA Schedule for Monday February 12th, 2018
New York Knicks @ Philadelphia 76ers
New Orleans Pelicans @ Detroit Pistons
Los Angeles Clippers @ Brooklyn Nets
Orlando Magic @ Chicago Bulls
San Antonio Spurs @ Utah Jazz
Phoenix Suns @ Golden State Warriors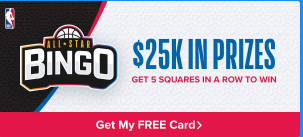 Now that we know who else is in action around the NBA tonight, let's take a look at our Fanduel Fantasy Sleepers for DFS owners to take advantage of tonight.
NBA FanDuel Fantasy Sleepers for Monday February 12th, 2018
Emmanuel Mudiay ($3,700)
It's hard not to jump on Mudiay tonight in at least a few of your lineups as he delivers a big time salary savings while costing under the $4k mark. While Mudiay may continue to come off the bench, his style of play on a Knicks team that really has nothing to play for should help him put up some numbers. Look for him to not only take shots tonight but also to continue to get his teammates involved in the offense.
Davis Bertans ($3,900), Manu Ginobli ($4,200)&Patty Mills ($4,100)
We're looking to the Spurs tonight for some sleeper value as the team continues to battle injuries. The latest name on the group is Dejounte Murray to join a group that also includes Tony Parker, Kawhi Leonard and LaMarcus Aldridge. That said we love Bertans as a player who should continue to see minutes while having the potential to post 25-30 fantasy points. Meanwhile if Murray and Parker are both out tonight, Mills and Ginobli will have to be two guys DFS owners consider as a cheap play at the point guard position.
Other fantasy sleepers/bargains to consider include Shaun Livingston, Avery Bradley, Wesley Johnson, Royce O'Neale & Jae Crowder
That said here are the NBA Daily Fantasy Basketball options we like for Monday February 12th, 2018.
Point Guards Options for FanDuel on Monday February 12th, 2018
Top Point Guard Options: Steph Curry
Mid-Tier Point Guard Options: Jerian Grant & Elfrid Payton
Fantasy Sleeper Options: Patty Mills & Emmanuel Mudiay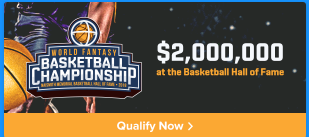 Even with the potential for a blowout, it's hard to look past Curry tonight in a matchup where he should see a ton of opportunities early against a Suns team that ranks 3rd in DVP against the point guard position. Meanwhile if you are looking to go heavy with someone like Anthony Davis or Andre Drummond, you could elect to go mid tier with a pair of options who both have solid matchups. Grant will get his shot at a Magic team that has struggled against the point guard position (1st in DVP) while Payton will have his opportunities in the fast scoring matchup against the Warriors. On the low end, Mills is a deep sleeper play based on who is in and out of the Spurs lineup while Mudiay has a shot at 30-40 fantasy points.
Shooting Guard Options for FanDuel on Monday February 12th, 2018
Top Shooting Guard Options: N/A
Mid-Tier Shooting Guard Options: Donovan Mitchell, Klay Thompson, Lou Williams & D'Angelo Russell
Fantasy Sleeper Options: Avery Bradley, Manu Ginobili & Danny Green
Could the shooting guard position be the slot that wins or loses a GPP tournament for you tonight? For us it might be the most difficult of the positions to build around with no sure locks from the top ten fantasy options. While Zach LaVine looks like a solid play based on his amount tonight he has hit only 5x value once over his last five contests. This opens up the door for someone like Thompson who has a solid matchup (Suns 1st in DVP) or Williams against a very bad Nets team. Meanwhile guys like Mitchell and Russell (as long as minutes are there) both have the upside to post a 6-8 time fantasy performance tonight.
Small Forward Options for FanDuel on Monday February 12th, 2018
Top Small Forward Options: Kevin Durant
Mid-Tier Small Forward Options: TJ Warren, Danilo Gallinari & Michael Beasley
Fantasy Sleeper Options: Royce O'Neale & Joe Harris
Much like his teammate, Durant is still a solid play despite the potential for a blowout win by the Warriors. For us, Durant is a player who has shown in games with fewer than 30 minutes that he can post solid fantasy performances (31.2 & 48.8 last two). Outside of Durant, the small forward position is wide open with multiple options to consider that will provide you some salary cap space. One of those options is Beasley who will be called upon a lot for the Knicks with Kristaps Porzingis out for the season, add that with the fact Mudiay has the ability to get him the ball should open up his scoring chances. Along with Beasley both Warren and Gallinari are options who have the potential for 35-40 point fantasy performances tonight. On the low end if you are looking for value it's hard to look past Harris who has had back to back solid fantasy performances (39.5 & 32.2).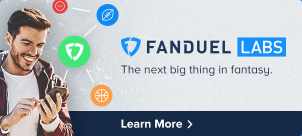 Power Forward Options for FanDuel on Monday February 12th, 2018
Top Power Forward Options: Blake Griffin & Ben Simmons
Mid-Tier Power Forward Options: Tobias Harris & Lauri Markkanen
Fantasy Sleeper Options: Jae Crowder & Davis Bertans
The power forward position might be the one position that is the most rounded tonight with options at all three levels that DFS owners should be able to cash in on. Griffin has beenbrilliant with the Pistons posting over 40 points in two of his last three contests, while Simmons is a near triple double threat night in and night. In the mid tierrange it is hard to look past Harris who has the second best matchup of the tonight against a Nets team that ranks 2nd in DVP against the position. On the lower side Crowder and Bertans should both see additional playing time tonight. Crowder will face off against a Spurs team that is depleted with injuries while Bertans has seen 26 and 31 minutes in the last two contests rewarding his owners with back to back 20 plus fantasy performances.
Center Options for FanDuel on Monday February 12th, 2018
Top Center Options: Joel Embiid
Mid-Tier Center Options: DeAndre Jordan & Rudy Gobert
Fantasy Sleeper Options: Kyle O'Quinn
Now you might be wondering why I left both Anthony Davis and Andre Drummond off of my list of options tonight. While we love the potential, the head to head matchup and their expected usage rate has me worried a little tonight. That said if you are looking at cash lineups both are solid options. For us though, Embiid has a solid matchup against a Knicks team he destroyed back on Christmas Day (25 points & 16 rebounds). Along with Embiid, Jordan looks like a smart play tonight against a Nets team that ranks 1st in DVP against the center position. On the low end, O'Quinn should still be an option DFS owners look at as his value continues to sit under the $5k mark.
Can the Suns keep it close tonight to allow DFS owners to cash in on Curry and Durant?