Strategies
Daily Fantasy Sports (DFS) January 2017 Wrap Up – Resolutions and Rewards

As 2017 starts off with a sports bang there is no better time then now to resolve to play more daily fantasy sports.  2016 was a fantastic year for the daily fantasy sports (DFS) industry and participants as a whole with new playing styles and sports options opening up, enhanced rewards systems being offered as well as more action then ever before.  Regardless of which daily fantasy sports (DFS) game or gambling site you you plan to play in 2017 the fascination is that its a non stop attraction where sports enjoyment is at the forefront of priority.  Starting off 2017 we have seen the daily fantasy sports (DFS) community, industry, and landscape all still growing and if its any indication of what is on the horizon for the rest of year we all have a lot to be excited about.  Lets review a few of the new daily fantasy sports (DFS) happenings to get a feel and a pulse for what is going on in daily fantasy sports (DFS) as we kick off the New Year of 2017.
Daily Fantasy Sports (DFS) December 2017 Event #3 – FanDaction Offers Fantasy Sports Horse Racing

Just when you think daily fantasy sports could not be any more interesting and entertaining a company like FanDaction releases a new sports option and yet again we have something to be really excited about.  Just recently FanDaction became the first daily fantasy sports operator to offer DFS horse racing and the feedback and response has been incredible.  Most similar to Racing (NASCAR) fantasy sports horse racing is an exciting new format that offers all thrills as its counterparts.  The best part is the game is very easy to learn and play as all you have to do is pick 1 of 3 horses from 5 predetermined to create a fantasy lineup and the entry with the most points at the end wins.  If you are a Horse Racing or even a daily fantasy sports fan then you will certainly want to sign up for our FanDaction bonus offer and get started on piling up those wins today!
---
Daily Fantasy Sports (DFS) December 2017 Event #2 – DraftDay Launches Mission and Milestone Achievements and Rewards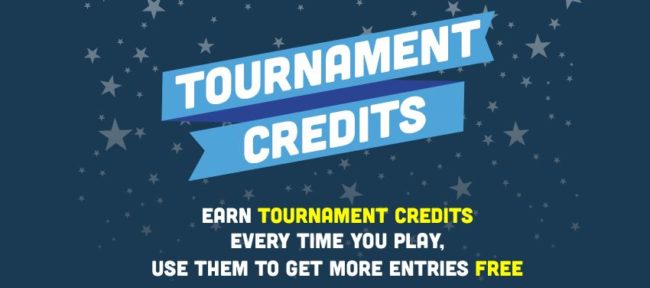 One of the hottest trends in the industry right now are missions, milestones and achievements and this is exactly what we are starting to see even more of.  Pioneered by the likes of such industry heavyweights as DrafKings, FanDuel and the mission concept is a great idea and highly encouraged as its just another way to reward and give back to players that support the industry so much.  It appears daily fantasy sports (DFS) website DraftDay feels the same way because as of this January 2017 they to are starting to offer there own forms of mission and milestone achievement rewards.  With easy missions like "join a guaranteed tournament" and "create a private tournament" you will be completing them and earning rewards and tournament ticket entries in not time.  What are you waiting for?  Sign up for our DraftDay bonus offer and get started on your way to even more DFS rewards today!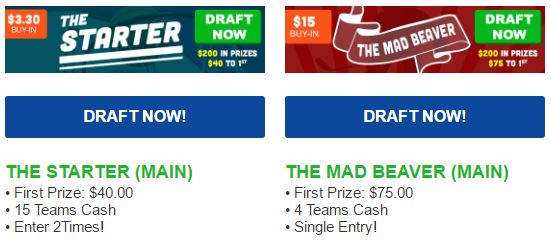 ---
Daily Fantasy Sports (DFS) December 2017 Event #1 – Its Players Appreciation Week At DraftKings

That is right.  Its player appreciation week at DraftKings during the last week of January 2017 and that means over $60,000 in FREE tickets, cash and daily fantasy sports are being added to the various contests throughout the week. Be on top of your game by viewing today's NBA BETTING ODDS before drafting your league. Free tournaments like this Friday's $15,000 NBA contest or free daily fantasy sports swag and gear are examples of what is being offered this Thursday as simply can-not-miss opportunities.  With all of this FREE stuff on the line there is no better time then now to grab your very own DraftKings account to start taking advantage of all that daily fantasy sports 2017 has to offer.  The future sure does look bright for the hobby.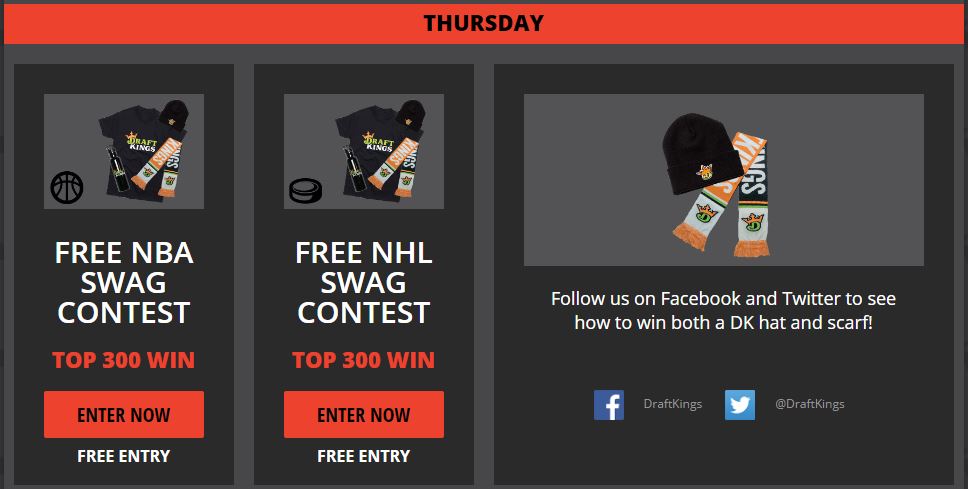 If you could have any change in daily fantasy sports (DFS) to start off the 2017 year what would it be?