Strategies
DraftKings Preview for Week 10 the 2015-2016 NFL Season

Quarterbacks:
The best two plays this week are Tom Brady and Aaron Rogers.  We will start by mentioning them and will probably play one or both of these guys but there are two lower priced guys we are looking forward to playing.  Brady at $8600 and Rogers at $7500 will cost you.  The guys we like (if you want to save money) are Andy Dalton at $6500 and Blake Bortles at $5600.  Andy Dalton gets a matchup with Houston in a game where the Bengals team total is 28.75 points which is on pace with the higher priced QBs listed above.  Houston is the 20th ranked Defense overall and surrenders 18.34 fantasy points per game to QBs.  Dalton has so many quality targets as pass catchers that we believe he will outperform his cost.  Bortles also is in a great spot to outperform his cost.  He faces the 29th ranked Defense in the Baltimore Ravens who give up 21.89 fantasy points to QBs and 31.61 fantasy points to WRs.  Bortles teammates are getting healthier as TJ Yeldon is back and so is Julius Thomas.  Allen Robinson is our top stack option with Bortles but keep an eye on the injury report as Allen Hurns left the stadium in a walking boot on Sunday.  Bryan Walters has been seeing some good target numbers so he makes for a sneaky double stack if Hurns is out.
Running Backs:
We like a bunch of backs this week: Gurley, D. Williams, Peterson, Ingram, Miller, Forsett, Blount, and Doug Martin.  All these guys seem to be in good spots for double digit touches.  Doug Martin vs Dallas is a nice matchup since they are giving up 23+ fantasy points to RBs.  The Blount option is most intriguing as the injury news to Dion Lewis is sure to shake up the New England backfield.  Blount has a good matchup vs the New York Giants who just lost Hankins at DT who was ranked 3rd at the position by PFF.  This figures to hurt an already struggling run defense and Blount should be in line for a good game at $4900.  But on the other hand Dion Lewis has seen 50 targets in the 7 games he has played so Brandon Bolden and James White at $3000 makes for intriguing plays.  The only problem is we can't be sure who will get those passing down snaps.  Possible GPP play if you like to gamble.  The Buffalo Bills backfield is one to watch as well.  LeSean McCoy is banged up again and Karlos Williams is back from his concussion and could be extremely underpriced at $3800 if McCoy is out.  Williams took 9 carries for 100 yards and 2 TDs so a bigger roll could result in nice Thursday night fantasy points if you play that slate.  We are also very intrigued by James Starks at $4900 vs Detroit.  The Detroit Defense is ranked 31st in the NFL and giving up 23.71 fantasy points to RBs so let's put Eddie Lacy to bed and let Starks go.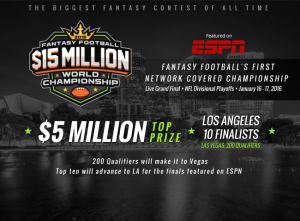 Wide Receiver:
We like Odell Beckham this week over DeAndre Hopkins in what we think will be a higher scoring game between the Giants and Patriots.  AJ Green and Demarius Thomas are both in good spots but we want Thomas vs a Kansas City Defense that gives up 32 fantasy points per game to WRs.  After 19 targets last week and an NFL record 6 drops we still want Mike Evans because those 6 drops can't possibly happen again.  Evans still went for 152 yards and his day could have been much better so play him vs Dallas this week.  Randall Cobb is in a good spot and so is Tavon Austin.  The guy we love is Allen Robinson.  We mentioned Bortles earlier and his main man is Allen Robinson.  With the Hurns injury we can see Robinson getting targeted a bit more and taking advantage of that Baltimore defense giving up 31.61 fantasy points per game to WRs.
Tight End:
This is a big TE week.  Gronk is in a great spot if you want to spend $8000 for a TE.  The guy is a beast and can go for 2 TDs vs the Giants Defense who do not defend the TE position well.  They don't defend anything well at this point which is why NE has a team total of 31.25 points.  We think you can roll out Olsen, Barnidge, Eifert, or Reed at decreasing price points depending on how much money you budget for the TE spot.  The guy we like is Kyle Rudolph.  Rudolph gets his shot at the Oakland Raider Defense ranked dead last against TEs.  At a price of $3000 you can run Rudolph out there with a plus matchup
Defense/Special Teams:
We feel this is a tough week for defenses as we don't love the matchups.  You can make a case for a Thursday night bounce back from the NY Jets if McCoy is out.  We also like the possibilities of St. Louis, Denver, Buffalo (Thursday night) and Carolina.  Our sleeper Defensive selection is Pittsburgh as they take on the Cleveland Browns.  Cleveland has a team total of 18.25 points but with a banged up McNown and turnover prone Manziel at QB we expect a few turnovers and possibly a defensive TD.  At a price of $3000 we think Pittsburgh can get you some return on investment.