The NHL schedule takes center stage for DFS owners tonight with a heavy eleven game slate to take advantage of. For the next week, all eyes will be on the ice for DFS owners as the NBA season rolls into their All-Star break and the MLB offseason just starting as pitchers and catchers have reported.
When taking a quick glance at some of the NHL FanDuel options tonight, the list of top options is endless. The group includes a pair of top tier goalies in Andrei Vasilevskiy and Braden Holtby for DFS owners to build around. Meanwhile, on the offensive side the group is led by the likes of Alex Ovechkin, Evgeni Malkin, Sidney Crosby, Connor McDavid and Nikita Kucherov.
Now before we take a look at who we like as we get set to build our NHL FanDuel lineups, let's take a look at the 11contests on the NHL Schedule for Thursday February 15th, 2018
Carolina Hurricanes @ New Jersey Devils
New York Rangers @ New York Islanders
Los Angeles Kings @ Pittsburgh Penguins
Detroit Red Wings @ Tampa Bay Lightning
Buffalo Sabres @ Ottawa Senators
Calgary Flames @ Nashville Predators
Washington Capitals @ Minnesota Wild
Anaheim Ducks @ Chicago Blackhawks
Montrael Canadians @ Arizona Coyotes
Edmonton Oilers @ Vegas Golden Knights
Vancouver Canucks @ San Jose Sharks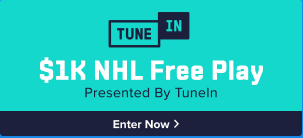 With that all said here is alook at our Daily Fantasy Hockey Options on FanDuel for Thursday February 15th, 2018.
FanDuel NHL – Centers
Logan Couture & Mika Zibanedjad
The big question tonight is which direction do you elect to go with at the center position? You could easily go with the likes of Malkin or Crosby, while Steven Stamkos is another name to consider with his matchup against the Red Wings (6th in DVP against Centers). In the end we turned our attention to mid to upper echelon options in Couture and Zibanejad. Couture should benefit from playing against a Canucks team that ranks 2nd in the NHL in DVP against opposing Centers. Meanwhile, Zibanedjad should see a ton of scoring chances against an Islanders team that ranks 1st in the NHL in goals allowed per contest (3.67).
Top Tier NHL Fantasy Options – Evgeni Malkin, Connor McDavid & Steven Stamkos
Mid Tier NHL Fantasy Options – Jordan Staal, Jonathan Drouin &MikkoKoivu
Sleeper NHL Fantasy Options – Ryan Strome& Pavel Zacha
FanDuel NHL – Wings
Mark Stone, Reilly Smith, Tanner Pearson & Tom Wilson
Now the winger position tonight will simply come down to how you elected to spend your money at various positions. One solid option is to go cheap between the pipes to free up additional cash to add a combination of Kucherov and Ovechkin. For us we took a more sutle approach electing to go in the middle tier to allow us to spend at goalie. For us it is hard to look past Stone based one his matchup against a Sabres team that ranks 2nd in DVP. Meanwhile Smith, has been red hot for DFS owners posting double digit points in five straight contests. Rounding out the group we elected to with Pearson who has a favorable matchup against a top 5 team in DVP against the position while Wilson is always a solid candidate as long as he sees the minutes on the Caps team that has a ton of scoring chances.
Top Tier NHL Fantasy Options – Nikita Kucherov, Alex Ovechking& Johnny Gudreau
Mid-Tier NHL Fantasy Options – Brandon Gallagher, Gustav Nyquist & Kyle Palmieri
Sleeper NHL Fantasy Options –Alex Killorn & Joonas Donskoi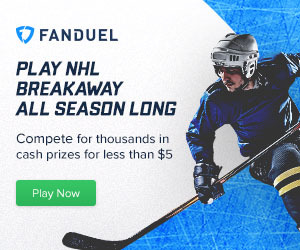 FanDuel NHL – Defenseman
Mike Green & Jeff Petry
Tonight, you could go a few different directions on the defensive side of the ice, for us we turned our attention to trying to find a few cap saving options. For us two of the options we strongly like this even is Green and Petry. For Green, he will look to take advantage of a Lightning team that ranks 2nd in the NHL in DVP against defenseman while Petry looks to benefit from taking on a Coyotes team that ranks 4th. As you look at Green you see a player that typically gets his chances to shoot while also being a player that records some blocks. Look for the number of blocked shots to be solid tonight for Green against a Lightnight team that leads the NHL in goals scored. Meanwhile with Shea Weber out, Petry has seen his chances on defense. Those chances have led to six double digit fantasy performances over his last nine contests.
Top Tier NHL Fantasy Options – Brent Burns & P.K. Subban
Mid-Tier NHL Fantasy Options – Drew Doughty & Mark Giordano
Sleeper NHL Fantasy Options –Karl Alzner& Brady Skjei
FanDuel NHL – Goalie
Andrei Vasilevskiy
The goalie position is an interesting one this evening with a ton of talented goal tenders expected to be between the pipes. For us the one option we are keeping our eyes on is the Lightning's Vasilevskiy as he looks to add another big time performance for his DFS owners. Tonight, he will have that opportunity against a Red Wings team that has struggled to score averaging just 2.64 goals per game (6th fewest in the NHL). Along with Vasilevskiy we really like both Holtby and Rinne while Kinkaid is a nice salary cap saving option who will face off against a Hurricanes team that is averaging just 2.72 goals per contest (8th fewest in the NHL).
Top Tier NHL Fantasy Options – Braden Holtby&PekkaRinne
Mid-Tier NHL Fantasy Options – Keith Kinkaid