Strategies
MMA Fight Night – Saturday March 14, 2015

Mixed Martial Arts (MMA) Daily Fantasy Sports Premiere At Draft Kings
Draft Kings Mixed Martial Arts (MMA) daily fantasy sports is a huge success so far and shows every sign of growing even bigger. A year round sport with near non-stop weekend action Mixed Martial Arts continues to capture the minds and imaginations of a growing audience. After watching Ronda Rousey destroy Cat Zingano in 14 seconds last major fight card at the star studded Los Angeles Staples Center event its hard not to feel a little excitement to see what some of these amazing athletes can do next. The fact that Draft Kings is now providing Mixed Martial Arts (MMA) a link into the daily fantasy sports industry only makes the sport even more entertaining and intellectually interesting. As women fighters become prominent and promoted and more high profile corporations become involved there is no telling where this multi-gender sport will take off to in the future as far as fans and corporate sponsorship goes. Regardless of who is involved its hard to resist an amazing weekend night of fight and daily fantasy sports. Thinking about getting in the Draft Kings Mixed Martial Arts (MMA) daily fantasy sports octagon this weekend to battle it out with a few lineups? Lets breakdown a potentially playable lineup with some of the more interesting fighters for this weekends up coming March 14th, 2015 MMA event at the American Airlines Center, Dallas Texas.
Event: Saturday March 14, 2015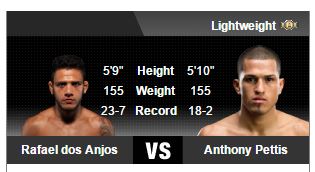 UFC 185: Pettis vs. dos Anjos (American Airlines Center, Dallas)
Draft Kings Mixed Martial Arts (MMA) Daily Fantasy Sports Lineup Build
Fighter 1 – Alistair "The Reem" Overeem (38-14-0) (Heavyweight)
We are going to stick to our normal script and pick the fight slated to end early per the sports book odds and take Alistair "The Reem" Overeem (38-14-0) over Roy "Big Country" Nelson (20-10). These are two heavy swingers and we will take the much bigger and taller and favorite Alistair to finish this fight early as predicated by the odds. Overeem won his last fight by KO/TKO while Nelson lost in the same manner so lets ride the trend here and go with the more experienced fighter in "The Reem".
Fighter 2 – Elias Theodorou (10-0) (Middleweight)
Here we are going with Mr. Perfect Elias Theodorou (10-0) who is a proven winner that knows how to win fights.  At -307 it looks like Theodorou looks like a great pick over  Roger "The Silverback" Narvaez (7-1) who showed a bit of weak chin getting KO/TKO'ed by Patrick Cummins.  Elias has not lost a fight and I can't imagine this starting now against a weaker opponent.
Fighter 3 – Matt "The Immortal" Brown (19-12) (Welterweight)
Matt "The Immortal" Brown (19-12) knows how to know people out winning 4 of his last 5 fight by TKO/KO.  While brown is fighting an adimirable opponent in Johny "Bigg Rigg" Hendricks (16-3) and is a huge underdog at the sportsbook +265 but its hard not too see him having a great shot at ending this fight in spectacular fashion.  This one is worth a shot for the potential early knockout alone which Matt seems to be doing a lot of lately.
Fighter 4 – Chris "Kamikaze" Cariaso (17-6) (Flyweight 
Here we go against the grain a bit and take Chris "Kamikaze" Cariaso (17-6)  against the perfect Henry Cejudo (7-0).  7 fights is not that many by UFC/MMA standards so maybe inexperience will set in and let Chris take the win.   Cariaso has won 3 of his last 5 fights so he is no stranger to victory.  A huge underdog this is more a value play where we gain in salary cap at the price of entering a pretty lopsided battle.  The "Kamikaze" has fought top tier opponents such as Demetrious Johnson (Loss by Submission (Kimura)) and has headlined fight cards so he used to taking big fights and proving a worthy opponent.   The flyweight division is pretty high flying so who knows what can and we hope we catch a break here.
Fighter 5 – Anthony "Showtime" Pettis (18-2-0) (Middleweight)
What Draft Kings Mixed Martial Arts (MMA) daily fantasy sports lineup would be complete without including the headline fight of the night.  Here we get Petis who is an absolute beast in the ring and we can expect him once again to put on his full display of MMA weapons against Rafael dos Anjos. Winning all 5 of last fights 2 by TK/KO and two by submission there is no question "Showtime" has put away power.  Rafael has won a lot of fights as well and should not be taken lightly but this is title fight so do not expect anything but Anthony's best which is pretty  unstoppable.  This should be the perfect opportunity to enjoy the last fight of the night while sweating the final outcomes of our MMA DFS lineups.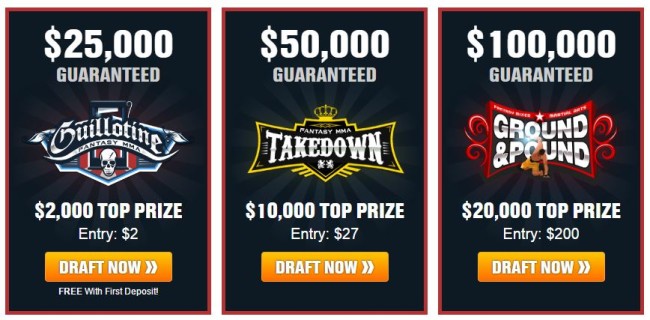 This is yet another awesome fight card with a weekend full of action.  We get to see the women go at again in the Carla Esparza VS. Joanna Jedrzejczyk fight and the Germaine de Randamie VS. Larissa Pacheco so this should be a well rounded night fights.  Will you be making some Draft Kings Mixed Martial Arts (MMA) daily fantasy sports?  Who is your favorite fighter on the upcoming card?  Enjoy the fights!
Bonus Lineup (This lieup is a fun one that features all the undefeated fighters of the night (Joanna Jedrzejczyk (8-0), Henry Cejudo (7-0), Theodorou (10-0)):
Fighters from each contest will earn points as follows:
Moves Scoring
Significant Strikes (SS): +0.5 PTS
Advance (ADVC): +1 PT
Takedown (TD): +2 PTS
Reversal/Sweep (REV): +2 PTS
Knockdown (KD): +3 PTS
Fight Conclusion Bonuses
1st Round Win (1rW+): +100 PTS
2nd Round Win (2rW+): +70 PTS
3rd Round Win (3rW+): +50 PTS
4th Round Win (4rW+): +40 PTS
5th Round Win (5rW+): +40 PTS
Decision Win (WBD+) : +25 PTS
Scoring Notes: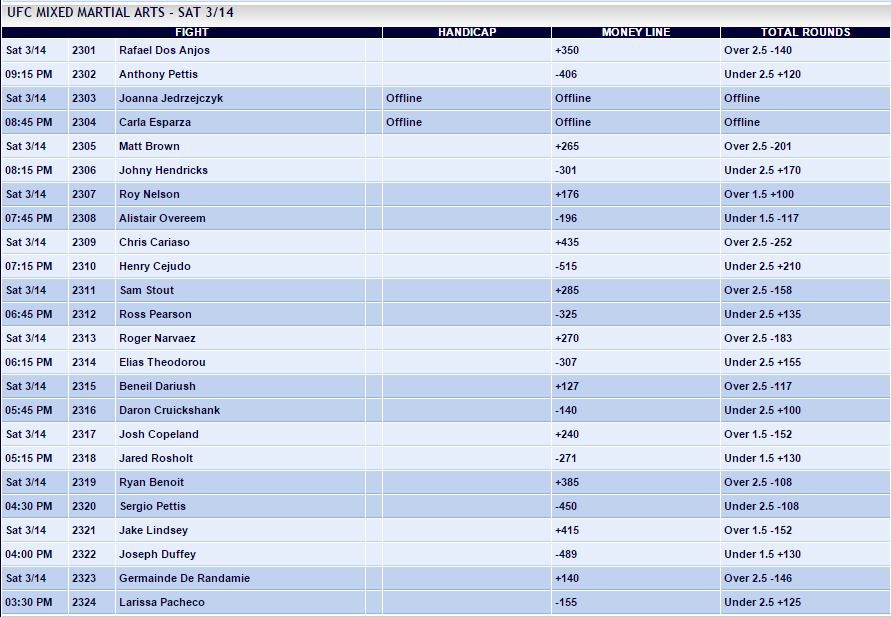 Significant Strikes are any Distance Strike or Clinch/Ground Strikes that are considered "Power Strikes" by official scorers.
Advances include:
To Half Guard
To Side Control
To Mount
To Back Control