Strategies
NFL DraftKings Lineup Construction for November 26, 2015

The approach for Thursday is to enter the $2 Million Wishbone Classic on Draftkings.  On the surface we like the Green Bay team total of 28 points but weather will play a factor in this game.  The current forecast for Thursday in Green Bay is rain all day and snow late so the precipitation will have an effect on this game.  In an effort to be contrarian this GPP lineup will fade the Green Bay-Chicago game.
Team Totals and Defense/Special Teams:
Philadelphia 23 – @ Detroit 22
Carolina 23.5 – @ Dallas 22
Chicago 19 – @ Green Bay 28
Since the decision was made to fade the offensive players in the Green Bay-Chicago game we can take a look at the team totals for the other 4 teams.  Vegas projects the spreads to be within 1.5 points for both the Philadelphia/Detroit and Carolina/Dallas games so consideration was given to stack a QB with his WRs.  A solid play when selecting a Defense/Special Teams unit is to pick a defense playing at home and favored.  The only defense playing at home and favored on Thursday is Green Bay so that was an easy selection considering Chicago has the lowest team total and the weather should slow this game down.  This is a great spot to use the weather to your advantage.  As you enter your lineup you may also notice that salary was left on the floor.  With such a small slate in a GPP this is another way to be contrarian as long as your decisions are sound.
GPP Lineup Game Lineup:
QB Matthew Stafford $5800
RB Darren McFadden $5500
RB Jonathan Stewart $5200
WR Calvin Johnson $7200
WR Terrence Williams $4200
WR Golden Tate $4700
TE Greg Olsen $6200
FLEX DeMarco Murray $6100
DST Green Bay Packers $3100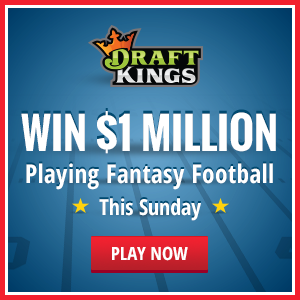 Quarterback Breakdown:
Matthew Stafford is the QB selection for Thursday.  This is contrarian to say the least.  Stafford has been solid in Detroit's last two games.  Detroit beat Green Bay two weeks ago and Stafford played well in controlling the game.  This past week Stafford again controlled the game with an efficient 22 for 35 passing for 282 yards.  This game should be paced up playing against the Eagles so Stafford is in a nice spot to get a few extra throws and scores.  The Detroit defense has been playing better lately and with Mark Sanchez at QB for Philly they may struggle to move the ball again like they did vs Tampa Bay last week.  The Dallas/Carolina game will be played tighter than most expect and Cam Newton will be a big name after his 5 TD performance last week.  Rogers on paper is the top QB but the fade is an option based on the weather.
Running Back Breakdown:
The Running Back selections for this GPP lineup are Darren McFadden and Jonathan Stewart.  McFadden is coming off a 29 carry performance last week vs Miami and is heavily used in the passing game.  The Carolina defense is very good against the run but McFadden's shear volume should push him over the top into value.  Stewart received 21 carries in a game that was out of hand early last week vs Washington.  He has now gone 6 games in a row with over 20 carries and on this short slate these two RBs seem in a good spot to get over 20 carries and 25 touches.  Dallas is also the 5th worst run defense on the season giving up 21.5 fantasy points per game to RBs so Stewart can take advantage of Dallas.  At FLEX you can pencil in DeMarco Murray.  Ryan Matthews is not expected to play and Murray should see over 20 carries himself.  Last week v Tampa Bay the game got out of hand early so his touches were depressed by the game flow.
Wide Receiver Breakdown:
The Wide Receiver slots are filled by Terrence Williams, Calvin Johnson, and Golden Tate.  The selections of Calvin Johnson and Golden Tate were obvious to complete the stack with Matthew Stafford at QB.  Tate saw 11 targets last week vs the Oakland Raiders and Calvin Johnson was targeted 9 times so the volume will be there this week vs Philadelphia who is 3rd worst in the league vs WR giving up 28.5 fantasy points per game to the position.  All indications are that Josh Norman will blanket Dez Bryant.  Josh Norman is one of three CBs who have not received a negative rating all season by PFF.  To this end we can predict that Tony Romo will use Terrence Williams more often this week and Williams was productive last week going for 79 yards and a TD.
Tight End Breakdown:
Greg Olsen was selected as the TE.  Olsen is a model of consistency and sees the highest percentage of TE targets in the NFL.