Strategies
NFL FanDuel Lineup For Week 7 of the 2017 Season

The half way point is slowly approaching as the 2017 NFL Schedule rolls into week 7 of the season. Now luckily for daily fantasy football owners, the action is just heating up as FanDuel continues to deliver some big-time opportunities to cash in weekly. One of those contests that should be on the top of everyone's list this weekend is Fanduel's $2M Sunday Million with a top prize of $500k to first place.
With that said the big questions for everyone this week will simply come down to deciding which players from each position should be selected to build around. Should we target Tom Brady against the Atlanta Falcons or Le'Veon Bell against the Pittsburgh Steelers. Could Brett Hundley be the sleeper play of the week as he looks to help lead this Green Bay Packers to a playoff run.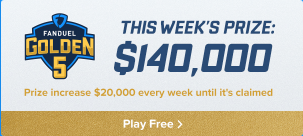 Now with that said here is a look at a few of the key defenses that we should be able to take advantage of this week as we look to build some key offenses stacks during Week 7.
Arizona Cardinals (5th in PPG allowed, 8th most passing yards per game)
If you are looking for some value this is the matchup you might want to turn to as the Los Angeles Rams have a shot to put up some points in this contest. The Cardinals enter their week 7 matchup allowing over 26 points a game while allowing opposing offenses to move the ball through the air. Through the first six weeks of the season, the Cardinals have allowed a league high 10 touchdown receptions to opposing receivers.
Indianapolis Colts (Most PPG allowed, 2nd most yards allowed per game)
Now only good news for the Colts leading into their week 7 matchup with division rivals the Jacksonville Jaguars is the fact that Leonard Fournette isn't 100% healthy. That being said this Colts team has looked bad on defense for most of the season as they are allowing over 400 total yards of offense and over 30 points a game. Entering week 7, the Colts are ranked 4th in fantasy points allowed to both opposing quarterbacks and running backs while wide receivers have pulled in nearly 1,200 yards of offense.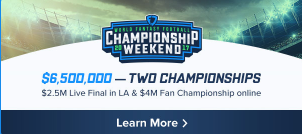 Here is our Daily Fantasy Football Options we like for Week 7 of the 2017 NFL Season.
2017 NFL Daily Fantasy Football Options Week 7
Quarterback – Jared Goff
Now the quarterback position is one of those slots that can either win you a lot of money or ruin your roster in just a few minutes. This week it will be hard for me to look past Goff as he looks to take advantage of a suspect Arizona Cardinals team who has trouble on the defensive side of the ball. That being said if the Cardinals offense comes out moving the ball this should play into the advantage of the Rams and any daily fantasy owners who might build around him. One deep sleeper to consider as he has struggled for most of the season but could break out with one of those top tier performances is Joe Flacco against the Minneota Vikings.
Other Top Quarterback Options – Tom Brady & Drew Brees
Sleeper Options – Joe Flacco & C.J. Beathard
Potential Bust – Cam Newton
Running Backs – Ezekiel Elliott & Adrian Peterson
The running back position could be one of those slots where you wait to see who is set to go and who will miss action. For us we love Fournette if healthy but we could also turn to Chris Ivory as a very solid option under the $6k mark. That being said how can we not look to these two backs as they look to take advantage of suspect defenses. Elliott will get a shot a San Francisco 49ers team that has allowed nearly 1,000 yards of offense to opposing running backs with six touchdowns through just six contests. Meanwhile, Peterson will get a shot at a Rams defense that has allowed 732 yards on the ground to go with seven rushing touchdowns to opposing running backs.
Other Top Running Back Options – Leonard Fournette & Jay Ajayi
Sleeper Options – Chris Ivory & Matt Breida
Potential Bust – LeSean McCoy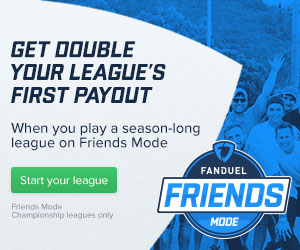 Wide Receivers – Julio Jones, Michael Thomas & Robert Woods
As some daily fantasy football owners shy away from Jones after a disappointing start, week 7 could be the time for a breakout performance. Jones will look to take advantage of a New England Patriots defense that ranks 1st in the NFL in passing yards allowed per game and fourth in total fantasy points allowed to opposing wide receivers. Meanwhile rounding out our receiving corps is Thomas who has yet to see fewer than six targets in any game this season and Woods who has a shot to see some spots to make some big plays with Patrick Peterson being assigned to Sammy Watkins.
Other Top Wide Receiver Options – Antonio Brown & Dez Bryant
Sleeper Options – Zay Jones, Laquon Treadwell & Chris Moore
Potential Bust – Mike Evans & Brandin Cooks
Tight End – Jimmy Graham
We could have easily inserted Rob Gronkowski into this slot and been very happy with our lineup. That being said in GPP lineups we expect to see a ton of usage on Gronk, leaving us to look for another option. In the end, I gave the slight advantage to Graham but could also see someone like Evan Engram or Austin Hooper as solid playmaker options. For Graham, he should have a chance to make some plays against a Giants defense that has allowed a league high seven touchdown receptions to opposing tight ends.
Other Top Tight End Options – Rob Gronkowski
Sleeper Option – Evan Engram & Austin Hooper
Potential Bust – Jimmy Graham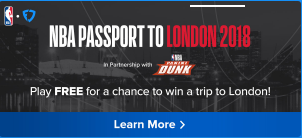 Kicker – Dan Bailey
For us the kicker position is one of those slots where we could go really any direction. In the end, we stuck with the idea of going with a kicker playing indoors as well as one that has a solid matchup. While the San Francisco 49ers have been bad in the win/loss standings, they have kept all of their games close making each field goal mean even more. If the Cowboys can get Elliott moving it should open up opportunities for Bailey.
Other Kicker Options – Justin Tucker & Greg Zuerlein
Defense – Carolina Panthers
In cash game lineups, we suggest looking at a team like the Seattle Seahawks against a Giants team lacking playmakers. Meanwhile in GPP formats we looked at a team that has the potential to put together a big game despite being on the road against a rookie quarterback. The key to this matchup will be whether or not the Bears elect to throw the ball or stick to the ground. In the end, the Panthers as well as a team like the Jaguars or even the Cowboys could reward us all with a big time fantasy performance.
Other Defensive Options – Jacksonville Jaguars & Dallas Cowboys
Don't forget to set your FanDuel Lineups today to take advantage of some great contests taking place in Week 7 including the $2 Sunday Million ($500k top prize).