Strategies
The Celebrities and Sports Spokespeople Of Daily Fantasy Sports
With so much going on in the age of technology you just never know who will be associated with what next.  As daily fantasy sports expand so to does there connection with mainstream society.  Now that social media and other mobile technologies make some of our favorite life and sports personalities only a message away the ability to interact with fan favorites is becoming even more vital to certain brands success.  Those we look up to, are entertained by, find fascination in or admire for a talent or ability are more available then ever before to the general public which provides the possibility and opportunity for great fan experiences and interactions.  Many daily fantasy sports websites are now realizing the value in the new dynamics of celebrity promotion and we are seeing some exciting new sponsorships and partnerships as a result.  What also is becoming increasingly clear is that daily fantasy sports are a  perfect bridge or conduit for sports fan interactions due to its close ties with both entertainment and athletic competitions.  Lets look at the top 3 websites that are incorporating celebrities and sports spokespeople into their daily fantasy sports platforms and how they are bridging the gaps between spectators and participants.
Top 3 Daily Fantasy Sports Websites With Celebrity Promotions 
1: FanPicks Daily Fantasy Sports Site


New onto the daily fantasy sports scene FanPicks is making big waves with its many recent celebrity sports spokespeople pickups.  The roster of celebrity sponsorships on FanPicks now includes Hulk Hogan, Ava Fiore from  from Cleats & Cleavage and Atlanta Falcon's Roddy White.  Want to play daily fantasy sports against these legendary athletes and personalities to not only prove your knowledge but for bragging rights and memories as well?  Sign up for a FanPicks account and start playing daily fantasy sports against some of the greatest sports characters of all time.  Only time will tell who will be the next exciting celebrity addition to the FanPicks daily fantasy sports team.

The first is a true legend in the world of sports and entertainment! HULK HOGAN has been wowing audiences and sports fans alike for almost 40 yrs.! Hulk has been bitten by the Daily Fantasy Sports bug! So all you HULKAMANIACS better keep your eyes open for his special contests!!

AVA FIORE from Cleats & Cleavage is NOT just another pretty face! Ava knows sports! Fanpicks.com is very excited to have her on board… Did you know Ava won the Golden Gloves in NY!? Now you have a chance to knock her out Fantasy Sports style, look for her exclusive contests starting this week as we welcome her like only Fanpicks.com can!

Last but certainly not least Fanpicks.com welcomes to its team THE greatest wide receiver in Atlanta Falcon's history!! Yup! You guessed it! RODDY WHITE!! Roddy is known for setting records…Now he's looking to set DFS records!!!!

---
2: FantasyHub Daily Fantasy Sports Site

Dedicated in large part to creating charitable contributions and awareness FantasyHub is one site that has gotten support from a large variety of celebrities and athletes who hold certain causes close to their heart.  Just one look at the spokesperson FantasyHub roster of Udonis Haslem, Mario Chalmers, Albert Pujols, Bo Jackson, James Worthy, Lolo Jones, David Nelson, Kurt Warner, Mike Muscala, Noah Vonleh, Hassan Whiteside, Andre  Drummond, Donovan McNabb, Isaiah Thomas, Santonio Holmes, Colton Underwood, Ralph Sampson, Nancy Lieberman, Jerome Williams, Micheal Carter Williams, Michael Kidd-Gilchrist, Julius Randle, Trey Burke, Terrence Ross, Patrick Peterson, Matt Light and it is clear the support is strong.  If you are looking for that extra special daily fantasy sports experience a try give FantasyHub a try and you will have access to all of the below competitions and more.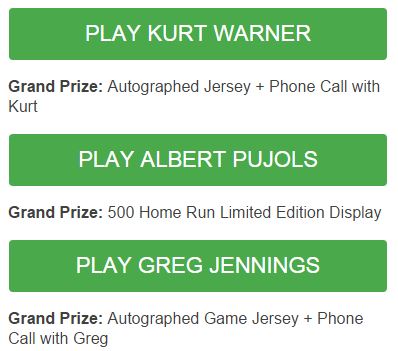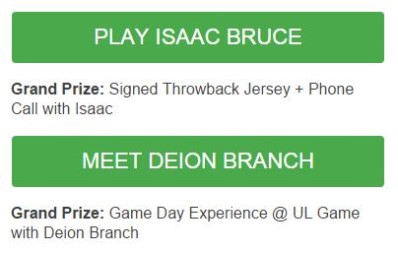 –Play Kurt Warner: Grand Prize: Autographed Jersey + Phone Call with Kurt
–Play Albert Pujols: Grand Prize: 500 Home Run Limited Edition Display
–Play Greg Jennings: Grand Prize: Autographed Game Jersey + Phone Call with Greg
–Play Isaac Bruce: Grand Prize: Signed Throwback Jersey + Phone Call with Isaac
–Meet Deion Branch: Grand Prize: Game Day Experience @ UL Game with Deion Branch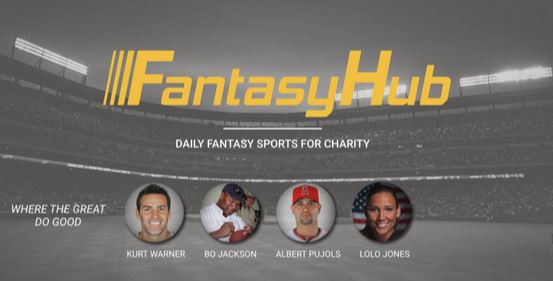 ---
3: FantasyDraft Daily Fantasy Sports Site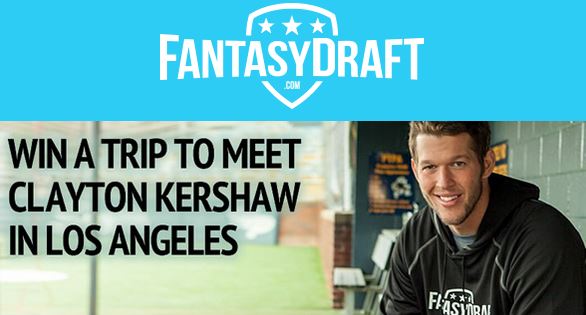 Known as the #PLAYERSFIRST daily fantasy sports website, FantasyDraft is always keen on looking for new ways to enhance their customers DFS experience and celebrity athlete participation is one of those ways they are doing just that.  Featuring a sponsored player roster of T.Y. Hilton, Jordy Nelson, London Fletcher, Shannon Sharpe, Drew Brees, Boomer Esiason, Jimmy Johnson, Andy Dalton, Chris Bosh, Tony Parker, Kevin Love Doug Gilmour and Clayton Kershaw FantasyDraft it is clear  FantasyDraft knows how to put an impressive list of promotional talent together.  If you are looking to add a new, fun twist to your daily fantasy sports game play why not sign up for a FantasyDraft account, grab a RotoGuys FantasyDraft deposit bonus and get into the mix of some of these great celebrity DFS competitions.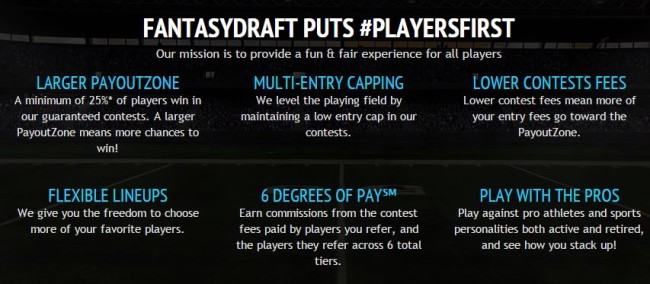 Its a tremendous amount of fun to compete with some of your favorite sports celebrities when it comes to daily fantasy sports and the unique prizes and one of kind experiences some of the DFS competitions offer only makes the concept even more tantalizing and amazing.  Celebrity endorsements of brands and products will always seem to be an ingrained part of company marketing when the right contexts arise and daily fantasy sports certainly appears to be one of those dream combinations of fan and celebrity entertainment immersion.  Want to add a little extra fun to your daily fantasy sports experience?  Why not sign up for a FanPicks, FantasyHub or FantasyDraft daily fantasy sports account and try your luck against some of DFS biggest sports celebrities today!