Strategies
Top 3 Daily Fantasy Sports Promotions Heading into June 2016

Who does not like a great promotion right?  Like finding a coupon for something you need, having a friend tell you about a discount at a favorite place to shop or stumbling on a surprise sale it almost always feels good to save money or be treated to something extra.  The good news daily fantasy sports is no different.  The daily fantasy sports websites understand the fact that customers love exciting promotions which is why many have set out to create some of the best DFS promotions in the industry.  Many of us are already enjoying the sports we love to watch so why not add a little extra entertainment and excitement to our already beloved sports viewing hobbies.  Ever tried something you may not have due to a alluring promotion or other enticing opportunity?  We know we have!  Lets take a look at the top 3 daily fantasy sports promotions going on right now that make it a perfect time to enjoy some DFS.
#3 Top Daily Fantasy Sports Promotion – FanPicks MLB "Diamond King" Promo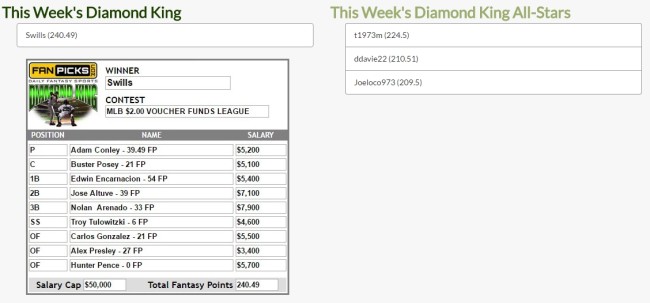 A newer player in the daily fantasy sports game FanPicks has several inspiring DFS promotions and the weekly Major League Baseball (MLB) "Diamond King" is a great example of that.  Each Sunday of the entire Major League Baseball (MLB) season, FanPicks honors its customers highest scoring MLB fantasy lineups with Free contest tickets.  This daily fantasy sports promotion states that any MLB lineup in any FanPicks completed, paid contest ($50,000 salary cap) is eligible to be awarded a prize. Winners will be determined each Monday, for contests concluding the previous week (Monday – Sunday).  Each week's winner of the Fanpicks Diamond King Contest promotion wins two free $10 game entries (platinum tickets).  The next 3 top scoring MLB lineups every week are also considered winners and referred to as "Diamond King All-Stars" who each get a $10 contest entry.  Free money and your name in the spotlight… The FanPicks daily fantasy sports "Diamond King" weekly competition is one promotion you do not want to miss this DFS baseball season. Click HERE to join!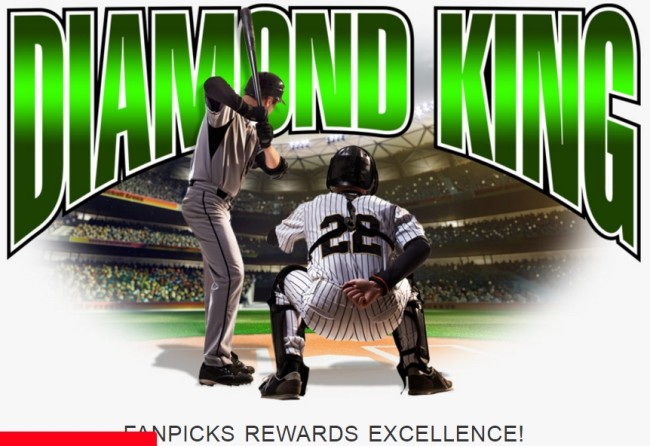 ---
#2 Top Daily Fantasy Sports Promotion – DraftFury $100 "MLB Freeroll" Promo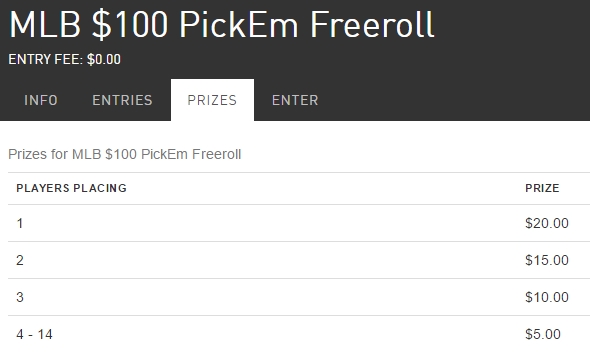 We will need to mark our calendars for this one as it will be taking place on May 29th, 2016 which is in just a few days here.  Yet another great DraftFury $100 Major League Baseball (MLB) freeroll is on the horizon which is the perfect reminder as to all the great daily fantasy sports promotions being offered in the market right now.  Freerolls are some of the best ways to try our daily fantasy sports as they truly do cost nothing and give you a chance to build a bankroll to play in real money games.  There also perfect practicing and perfecting skill sets and testing out new playing styles and theories.  DraftFury does host a lot of freerolls so if you happen to miss this one due keep your eye out for more popping up throughout the baseball season.  This is yet another example of a daily fantasy sports promotion you do not want to pass up while still available to players.  A DraftFury account is free and so is the freeroll so come join the excitement at no cost!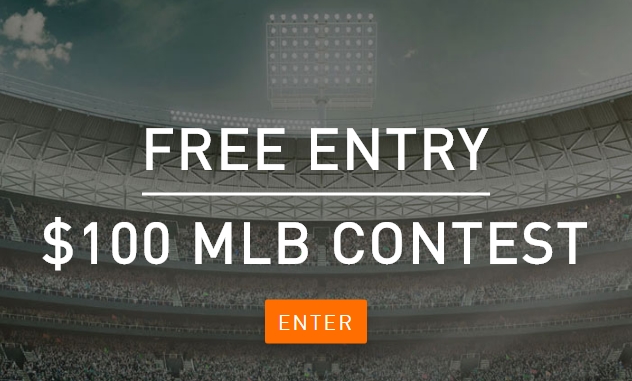 ---
#1 Top Daily Fantasy Sports Promotion – DraftKings Saturday "Flash Bonus Blitz" Promo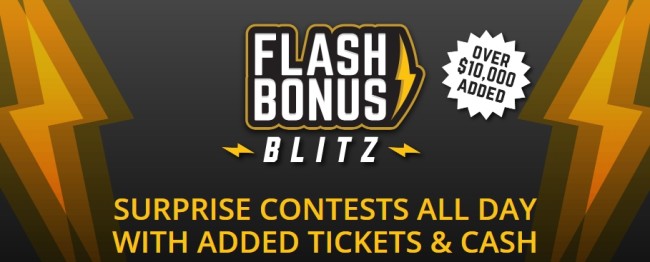 With over $10,000 of free money and prizes being given away every Saturday during the new DraftKings "Flash Bonus Blitz" there is really no reason not to be joining in on the daily fantasy sports fun and at the very least on the weekend.  A simple concept that adds cash and other promotions to select contests that are marked with a "lighting bolt" there is plenty of playing levels and bonuses being offered up by DraftKings each week.  We have been playing many of these ourselves and have to admit they are not only a lot of fun but provide lots and lots of value even for the casual weekend player.  We have even been seeing one contest pop each week called "everybody wins".  Its a $5 double up where every single entrant at least wins something which makes it the perfect promotion to try daily fantasy sports for the first time as you truly "can not lose".  Its all of this free money being offered that sure does make all of the above daily fantasy promotions hard to resist.

---
Often times in life we might find ourselves unaware or uninterested in something until a great promotion comes along to sway us differently.  This is exactly what is going in daily fantasy sports.  With so many amazing and exciting promotions now taking place how could you not want to at least try DFS out.  If you have been contemplating giving daily fantasy sports a go now is an ideal time to strike as not only are all the favorite major sports happening right now like Major League Baseball (MLB), Mixed Martial Arts (UFC), Racing (NASCAR), the National Basketball Association (NBA), the Professional Golf Association (PGA), Soccer (UCL), National Hockey Association (NHL) and eSport (LOL) daily fantasy sports (DFS) but there are plenty of incentives to play being offered as well.  Why not give daily fantasy sports a go with one of the above promotions.  Who knows?  You might just find your next great hobby or passion.  The games are waiting!