Strategies
Top Quarterback Sleepers for the 2015 NFL Season

The keys to winning your fantasy league or one week league rides with finding that one fantasy sleeper to cash in on. For us those sleepers are sometimes a wide receiver who brakes out for a big game or that cheaper option quarterback in one day fantasy leagues that would save you some extra cash to spend on a variety of other key positions.
Today we want to take a look at the quarterback position and focus on five quarterbacks who fit that bill. These quarterbacks will work for the traditional full season fantasy league as well as the one week fantasy leagues for week 1 of the 2015 NFL season.
For full length fantasy seasons the one other key rule to remember is to add a second quarterback just incase a few of these options may be injury prone or getting the starting job for the first time.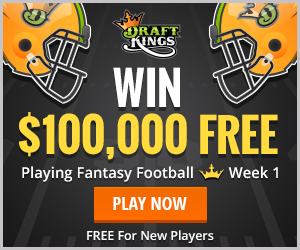 Here is our top five fantasy sleeper quarterbacks for the 2015 NFL season.
Sam Bradford, Philadelphia Eagles: It is hard for many to call Bradford a sleeper but with his injury history it is hard to imagine someone spending heavy on him in week 1 or electing to draft him to high in the first round of any fantasy draft. For one day fantasy leagues, Bradford sits behind sixteen other quarterbacks including Colin Kaepernick, Jay Cutler and Ryan Tannehill. Bradford's salary sits at $7,500 with much of that salary having to deal with his past injury history. For us this play is a easy one after watching the Philadelphia Eagles offense move this summer with Bradford under center.
Tyrod Taylor, Buffalo Bills: Rex Ryan made his first big announcement this spring with the news of which starting quarterback he would go with. That quarterback will be former Baltimore Raven Tyrod Taylor. Taylor is an intriguing option and one that will end up getting drafted in the later rounds if not at all in season long leagues. Ryan will focus on the running game with LeSean McCoy to limit Taylor's attempts at turning over the ball. Add in his ability to scramble makes Taylor a perfect option for week 1 as well in daily fantasy leagues at only $5,000 salary.
Derek Carr, Oakland Raiders: Carr is another one of those options we really like heading into the 2015 NFL season. The Raiders added another key weapon in Amari Cooper for Carr through the draft this offseason. Now for us we aren't high on him week 1 in leagues on FanDuel as well as DraftKings as the Raiders will have a difficult matchup against a solid Cincinnati Bengals defense.
Teddy Bridgewater, Minnesota Vikings: We are extremely high on the second year quarterback out of Louisville. The Vikings added a few key weapons this offseason with the main one being one of there own in Adrian Peterson. Adding Peterson to the backfield will make opposing defenses game plan on him a little more allowing Bridgewater a better option at making big plays with his arm. Other key weapons added include veteran wide receiver Mike Wallace and rookie receiver Stefon Diggs out of Maryland. Bridgewater could be a solid option in both season long and week 1 fantasy leagues.
Jameis Winston, Tampa Bay Buccaneers: Winston is going to be one of those quarterbacks who puts together a few big games then one of those really bad games will come out. That being said it is hard not to add him to your options with the surrounding cast at the receiver position. The Buccaneers offense features second year stud Mike Evans as well as the veteran Vincent Jackson for Winston to throw to. The big question mark will come with Austin Seferian-Jenkins who has the height to be a key red zone threat. In the end look for Winston to be a nice sleeper option most of the season especially in key matchups against teams in his division like the New Orleans Saints and Atlanta Falcons who like to throw the ball.