Strategies
Top 3 NBA Stats Every Daily Fantasy Basketball Player Should Think About

Now that the 2016-2017 NBA basketball daily fantasy sports season is well under way we are finally getting some clarity on player, coaches and team strategies and tendencies giving us a great foundation to build from.  While most of us are familiar key basketball DFS stats such as average minutes played and high total spreads there are still plenty of key numbers that often still do fly under the radar a bit.  When it comes to NBA daily fantasy sports we will want to be monitoring a plethora of vital numbers in order to remain competitive but are missing any?  The focus of this article will be to look at three essential  NBA DFS applicable stats that we may be overlooking on a daily basis.  Lets go inside the numbers and see what we come up with.
Key NBA Daily Fantasy Sports Stat #3: NBA Team Possessions Per Game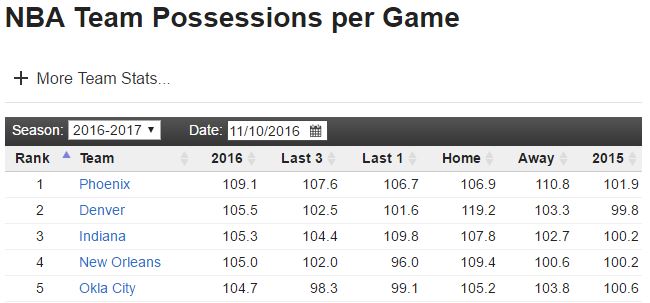 NBA team possessions per game is a very interesting stats when building strategies for your daily fantasy sports approach.  This stat shows us which teams are accumulating the most ball possessions during games.  Of course the more the more ball possessions, the more scoring opportunities thus leading to increased chances at fantasy sports points distribution.  This is a great stat to look at the last three game average as well as home and away lines to really drill down which way a teams stats are offensively trending and where.  Find two teams getting tons of on ball exposure and you might headed in the right direction when it comes to picking players from the situation.
Key NBA Daily Fantasy Sports Stat #2: Hollinger Team Statistics – PACE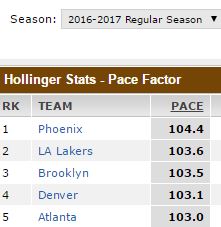 The "PACE Factor" is another revealing NBA daily fantasy sports stat that we will most assuredly want to keep our eyes on.   A number that indicates how fast or slow a teams PACE is a great indicator when it comes to daily fantasy sports point scoring chances.  The faster teams play the more likely there is for increased offensive and defensive opportunities and players to really open up their games.  When constructing lineups we will want to be looking for players on matchups where the pace of play should be accelerated thus putting us in a position to once again profit from increased possessions.
Key NBA Daily Fantasy Sports Stat #1: Individual Player Usage Rate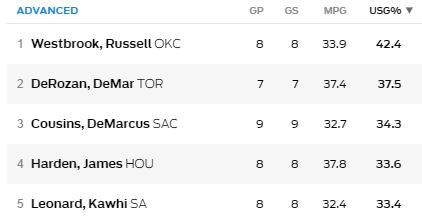 An NBA daily fantasy sports stat you simply do not want to overlook, individual player usage rates are a powerful inside look into how a team is utilizing a player within its playbook.  Sometimes just watching the game or noting minutes per game average stats is not enough as usage rates really get down to the core of where a player fits in to the offense and defense.  NBA daily fantasy sports lineup building around teams go to players always has the chance to pay huge dividends so player usage rates are a stat we will always want to consult in our decision making.
In the first NBA daily fantasy sports year we are seeing regular 60 – 80 DFS point nights from multiple players it is now more important then ever to pay more attention to improving our game.  What is your favorite NBA DFS stat that you integrated in your game?