Strategies
DraftKings In Partnership With NASCAR Introduces DFS Racing Contests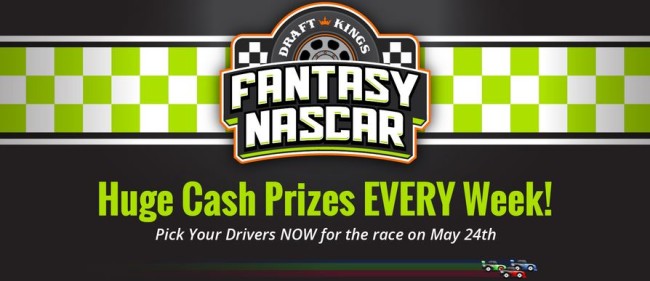 Just when you think daily fantasy sports could not get more enticing at DraftKings they decide to introduce NASCAR racing. As a sport built on speed and excitement racing seems like a perfect match for the thrills and high speed action of daily fantasy sports. With NASCAR sanctioning around 1,500 races at over 100 tracks in 39 of the 50 US states as well as Canada each year there should be plenty of chances to participate in the daily fantasy sports racing action. A pastime that know gigantic proportions the largest NASCAR tracks can accommodate upwards of 190,000 people leaving no shortage of potential daily fantasy sports players. Even more encouraging is the fact that NASCAR often holds around 17 of the Top 20 regularly attended single-day sporting events in the world which not only highlights its global popularity but leaves the door open for even more records in daily fantasy sports. The inaugural event is set to kick off of May 24th 2015 starting with the NASCAR Sprint Cup Series at Charlotte Motor Speedway race on May 24th in Concord, North Carolina (6:00 pm Eastern). As this new and exciting daily fantasy sports format enters into our playing options lets take a look at some of the characteristics we may want to consider before setting our racing teams.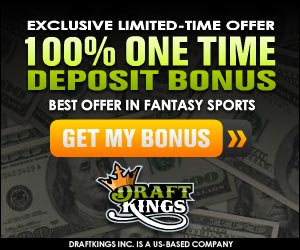 The initial DraftKings NASCAR daily fantasy sports contest formats are salary cap in nature with each featuring a fixed salary cap of $50,000 available to draft a 5 race driver roster. The race driver pool participants can select from will consist of all drivers scheduled to race in the upcoming event. Any missing drivers will not be added or removed from the selection roster once DraftKings starts offering contests for that day. Event results and rankings will be calculated based on the total points scored across each contest entrant's 5-driver roster (See below for complete scoring rules). When mastering the basics of DraftKings daily fantasy sports NASCAR racing you will want to keep in mind aspects such as driver eligibility, race cancellations, rescheduled races, suspended and shortened races, roster deadlines, live scoring and race completion times and payouts. Once you understand the rules and scoring of NASCAR DraftKings daily fantasy sports it will be easier to begin to build winning lineups. Win or lose one thing you can bet on is DraftKings NASCAR daily fantasy sports being a great time.
Coming in 2nd to the National Football League among professional sports franchises in terms of television ratings in the United States NASCAR daily fantasy sports hopes to bring even more fun and enjoyment to our race viewing pleasures. In addition to its many brand related racing endeavours NASCAR also features a Digital Media branch, an International Speedway Corporation, a Grand American Road Racing Association (Grand-Am) and an Educational arm giving it that wide reach that appeals to a wide variety of sports fans and followers. Also involved in Video Games, film, television, corporate sponsorship and much more there is no telling the impact NASCAR DraftKings daily fantasy sports will have on the industry. One thing is for certain with DraftKings race contests already available for entry such as the $100,000 Slingshot, the $100,000 Victory Lane, the $50,000 High Line, the $8,000 Spark Plug and the $5,000 Lug Nut the players are sure to turn up ready for some new and innovative daily fantasy sports action. Fan of NASCAR racing? Will you be participating in this new NASCAR endorsed form of entertainment? If so well see you at the track and at DraftKings!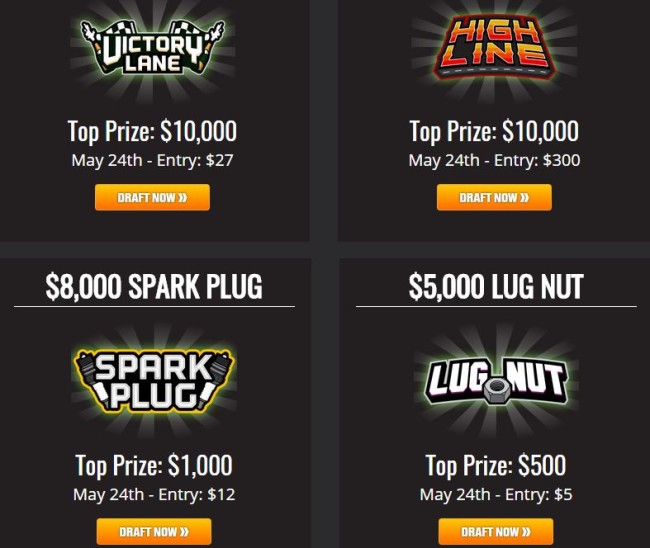 POINT SCORING
Drivers will accumulate points as follows:
Place Differential = +/- 1 PTs
Fastest Laps = +0.5 PTs
Laps Led = +0.25 PTs
Pass Differential = +/- 0.25 PTs
Finishing Position Scoring
1st: 46 PTs
2nd: 42 PTs
3rd: 41 PTs
4th: 40 PTs
5th: 39 PTs
6th: 38 PTs
7th: 37 PTs
8th: 36 PTs
9th: 35 PTs
10th: 34 PTs
11th: 33 PTs
12th: 32 PTs
13th: 31 PTs
14th: 30 PTs
15th: 29 PTs
16th: 28 PTs
17th: 27 PTs
18th: 26 PTs
19th: 25 PTs
20th: 24 PTs
21st: 23 PTs
22nd: 22 PTs
23rd: 21 PTs
24th: 20 PTs
25th: 19 PTs
26th: 18 PTs
27th: 17 PTs
28th: 16 PTs
29th: 15 PTs
30th: 14 PTs
31st: 13 PTs
32nd: 12 PTs
33rd: 11 PTs
34th: 10 PTs
35th: 9 PTs
36th: 8 PTs
37th: 7 PTs
38th: 6 PTs
39th: 5 PTs
40th: 4 PTs
41st: 3 PTs
42nd: 2 PTs
43rd: 1 PTs
Scoring Notes:
Place Differential = (Starting Position) – (Finishing Position)
Example: If a driver starts in 30th position and finishes in 25th place then his Place Differential is +5.
A driver's starting position is based entirely on his race qualifying position. If a driver's starting position is adjusted between qualifying results and the start of the race for any reason (backup car, driver change, etc.), the qualifying position will be used to calculate place differential.
Pass Differential = Total number of passes minus times passed
Drivers can only pass or be passed when they are on track during green flag laps. Drivers' number of passes and number of times passed will not increase when drivers are in the pits or in the garage.
Points for Finishing Position and Place Differential will be scored in real-time during the race. Points and standings will update as drivers move up or down in position and raise or drop accordingly.
Driver Substitution Notes: All drivers can not be replaced once the race starts.