Strategies
Fanduel Fantasy Basketball Lineup for Tuesday February 10th

James Harden, DeMarcus Cousins set to carry Fanduel
owners tonight. Despite having only a five game slate tonight the chance to take home some cash is still very high. That being said two of the top contests we like tonight is the Sacramento Kings taking on the Chicago Bulls while the Houston Rockets travel to Phoenix to take on the Suns.
In total only three of the five games tonight have over/unders set at 200 or above with the third matchup being the Denver Nuggets at Los Angeles Lakers. That being said it was a no brainer to go with the two studs as they have both been reliable and dominant for fantasy owners.
Harden will have to carry the load for the Rockets while Dwight Howard is out and Cousins is coming off a game winner in his last outing. That being said we are also allocating a bunch of our budget to just two players leaving us to find some budget plays across the board.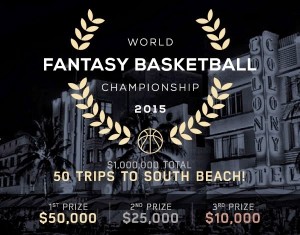 Here is our FanDuel Lineup for February 10th, 2015.
PG – DJ Augustin ($7,200): Augustin has played well of late posting five straight games over 20 fantasy points including contests of 47.4 and 51.3 in that stretch. We tried to value the point guard position between a few plays but elected to spread the cash through the remaining picks.
PG – Jordan Clarkson ($4,900): The Los Angeles Lakers point guard has seen an increase in fantasy value since being put into the starting lineup. That has showed up in his fantasy stats as well with three 30 plus fantasy performances in his last five games.
SG – Joe Johnson ($6,000): Johnson is a great option at shooting guard the downside is he has the tendancy to lay a single digit performance every couple games. That being said he is coming off a nice 31.6 night performance.
SG – James Harden ($11,200): Tonight's matchup is ideal for a bunch of the Houston Rockets but we like Harden's track record. That includes four straight games over 40 fantasy points to help fantasy owners.
SF – PJ Tucker ($4,700): We were looking for value at a few of the positions that led us to Tucker. He has been very consistent and will have an opportunity to score in a game that Vegas has at 214.5 with the Phoenix Suns as a two point favor.
SF – Trevor Ariza ($5,500): Despite putting up a few games here and there under 20 fantasy points he has been a solid start at small forward. Add in the fact that the Rockets are turning to other players to pick up for Howard and his fantasy production has increased including three straight 30 plus performances.
PF – Marcus Morris ($3,900): Looking for a FanDuel bargain we landed with Morris for the Phoenix Suns. Now don't get caught up in that big 50 plus fantasy performance but more of role player that can get you 15-20 points but has a huge upside. In his last 10 games he has landed double digit fantasy points in each contests.
PF – Ed Davis ($5,500): The Lakers are still trying to figure out who will pick up the slack but Davis has played well. The Lakers take on the Nuggets tonight in what has the potential to be a high scoring contest. This will be the third time these two teams have faced with the Lakers finishing with 94 and 111 points in those contests.
C DeMarcus Cousins ($10,800): Cousins carries an expensive price tag but tends to deliver night in and night out. The Sacramento Kings center has only one game with under 40 fantasy points in his last 10 outings.
Join Fanduel's $7K Tue NBA Assist