With the daily fantasy sports basketball season finally here its time to start dusting off those NBA skills as we get ready to battle it out on the courts of DFS.  One of the purest forms of daily fantasy sports the heads up contest is a challenge of wits between two people willing to test each other.  While it can be frustrating to continue to lose to the same opponents over and over again in this single player format there are certain things we can change to begin to get our win column back on the right track.  Lets take a look at 3 essential NBA daily fantasy sports heads up strategies to get a better focus on how we can begin to take our NBA daily fantasy sports basketball skills to the next level.
Top Winning Heads Up Strategy For DFS Basketball #1: Choose Your Opponents Wisely
Because you are facing one single opponent in this type of opponent who you choose to play against can be one of the biggest determining factors on if you come out a loser or winner for the year.  Now the obvious strategy most will think is correct is too of course play the weakest players and for the most part this is true but you still have to not only have methods of identifying the weaker players but also you need to track results.  The first thing you should be doing is tracking stats against each individual opponents.  Start with simple stats like wins and loses and average point win/loss differential and expand from this base.  The players you win more against at a wider margin try to play them more often.  Also the people you lost the most to try and avoid at all costs.  Now there is some value and merit to playing the best players on a occasion as well just for the experience and knowledge.  It can be a great exercise in learning how the best are beating the games and the key here is not to make the lessons to expensive which is a great lead into our next heads up winning DFS strategy which is bankroll management.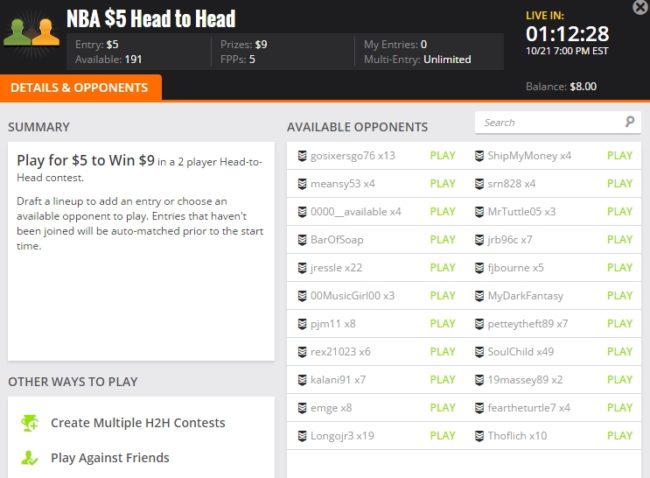 Top Winning Heads Up Strategy For DFS Basketball #2: Control Your Bankroll
Another absolute must to become a great heads up player in daily fantasy sports basketball is mastering the concept of bankroll management.  If you run out of money your out of the game so above all you have to make sure you never go broke.  Even the best DFS players in the world go on long losing streaks when variance and timing is simply not working in their favor due to the many many factors that can impact the outcome of a lineup.  Not only do you not want to go broke but you always want to play within your means.  Its a fine line between pressing it up and pulling it back during those key streaks of time.  Finally, never play for stakes that may affect you emotionally as daily fantasy basketball is a completely objective game and when you act irrationally based on emotion things can go downhill quick.  Its a numbers game which transitions us nicely into our last DFS basketball strategy tip and that is to take advantage of all the amazing analytical tools that are out in the market today.

Top Winning Heads Up Strategy For DFS Basketball #3: Take Advantage of Analytics
Daily fantasy sports have come a long way since there inception and one piece of the progression has been the introduction of analytical tools to assist players in building teams and lineups.  Computers, technology and artificial intelligence are slowly becoming a huge part of daily fantasy sports and those that can not embrace this new trend risk falling behind the curve and quickly.  If you have never used an analytical similar to the ones featured at NumberFire.com you are missing out on a wealth of knowledge, information and automated tool sets that could make a vast difference in how you approach the head-to-head lineup building process.  The days of crunching numbers by hand or trying to do it all on your own are over.  Find the right analytical programs and packages that work for you and start getting to work in taking your game up a few notches and become that winning heads up daily fantasy player we know you can be.

Regardless of what type of winning daily fantasy approach you want to deploy this NBA season you will want to incorporate all of the above NBA basketball head to head daily fantasy sports strategies into the equation.  What are some of your favorite heads up NBA daily fantasy sports tactics?  What do you feel are the key parts to creating winning daily fantasy sports one on one NBA basketball lineups?  There can be a lot that goes into winning on any given night in NBA daily fantasy sports so always be working on and fine tuning your game and in time and with hard work you too can be improving your 1 on 1 NBA daily fantasy sports results and experience.