Strategies
Fanduel Fantasy NBA Lineup for Thursday February 19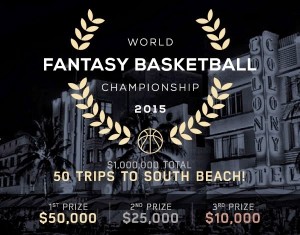 The NBA's second half of the season gets back in action tonight for fantasy owners to cash in on Fanduel
. While the action is limited to just two games each of these games have the potential to be high scoring contests featuring some of the top fantasy stars of the game.
The first matchup we will take advantage of features the Dallas Mavericks traveling to take on the Oklahoma City Thunder. This game has the making to be a high scoring contest as the Vegas line currently sits at 212 with the Thunder a 5.5 point favor. This allows us to start our fantasy lineup construction from this game.
For the Thunder it is hard not to go with Russell Westbrook and Kevin Durant tonight. These two players are the top two fantasy scorers in action and that trend should continue tonight. Entering the All-Star break Westbrook posted back to back contests with over 44 fantasy points. Durant on the other hand posted four straight 42 plus fantasy performances after missing back to back games.
The one play we worry about this early in the day is whether or not Rajon Rondo will start at the point guard position for the Mavericks. Currently Rondo is listed as a game time decision which could alter our lineup. We recommend monitoring this as the day goes on with the suitable replacement coming from the Mavericks backup point guard Jose Juan Barea.
JOIN FANDUEL'S $200K Thu NBA Slam

Here is our complete NBA FanDuel Lineup for Tonight.
PG – Russell Westbrook ($10,900): Westbrook is one of the top players on the court tonight with the only other high priced point guard to consider coming with Chris Paul. That being said Westbrook has the ability to drop a triple double almost any night of the week.
PG – Rajon Rondo ($6,200): At first we thought about teaming Chris Paul with Westbrook but we liked the additional salary at the center position. That being said Rondo has the ability to be one of the top point guards in the NBA if the Mavericks allow him to.
SG – J.J. Redick ($4,500): Redick might not be a big time fantasy scorer but he has been consistent when getting his minutes posting back to back 20 plus fantasy performances. Going forward the Clippers will turn to a variety of players to pick up the production while Blake Griffin is out.
SG – Marco Belinelli ($4,200): Belinelli is one of FanDuel bargains tonight after going with the most expensive point guard, small forward and center. In the five games since returning to the San Antonio Spurs lineup, Belinelli has scored in double digits in four of those contests.
SF – Kevin Durant ($10,700): This might be the easiest pick of the night as Durant is almost guaranteed night in and night out to post 40 plus fantasy points. That being said only concerns with using him is if his toe or foot starts bothering which could limit his minutes.
SF – Chandler Parsons ($6,400): The fantasy production drops off after Parsons at the small forward position with no other player averaging over 20 fantasy points a game. In the end this game has the making to be a shootout something that favors Parsons who has posted four 30 plus fantasy performances in his last six games.
PF – Mitch McGary ($4,000): McGary is the right price and could benefit with Steven Adams out of the lineup tonight. Outside of struggling against the Memphis Grizzlies before the All-Star break, McGary had posted back to back 31 point games.
PF – Boris Diaw ($3,900): Diaw is been sporadic at times but he was able to post 22.4 fantasy points the last time these two teams met back to end January. The Spurs power forward might not be the biggest fantasy scorer but he provides value at $3,900.
C – DeAndre Jordan ($9,000): We elected to go a little cheaper with a few of our picks allowing us to insert Jordan into our lineup. Jordan has been a monster on the glass with Griffin out posting back to back 20 plus rebound performances. In each of those contests Jordan posted at least 59 fantasy points.
 JOIN FANDUEL'S $6K Thu NBA Assist!