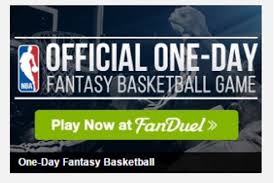 The NBA playoffs have arrived as fantasy owners look to cash in on FanDuel
on Saturday. In all fantasy owners have four great games to build a lineup around including a two contests with over/under totals of over 204.5 points. The one contest we have our eyes on is the Houston Rockets taking on the Dallas Mavericks.
This contests currently sits with a 211 point over/under making not only James Harden a great fantasy option but a bunch of players on each team. This pointed us to Tyson Chandler at the center position as well as Al-Farouq Aminu as more of a sleeper option.
Chandler has been brilliant over the teams last five games despite missing one of those contests. In that stretch, Chandler has posted three 36 point fantasy performances in the four game stretch. Aminu has played well himself scoring at least 23 fantasy points in four straight contests.
Join FanDuel's NBA PlayOff Challenge Today!
Here is our NBA FanDuel lineup for Saturday April 18th.
PG – Derrick Rose ($6,200): We debated going with Steph Curry and John Wall but couldn't justify spending the cash at that position when we had an opportunity to stack Harden with Anthony Davis. Rose will look to carry the Bulls in the first round of the playoffs.
PG – Tyreke Evans ($7,800): Despite the return of Jrue Holiday, Evans looks like a great matchup in game one against the Warriors. Evans finished the regular season posting back-to-back games with over 34 fantasy points. The Pelicans will need a big game from Evans and Davis if they want to take game one in Golden State.
SG – James Harden ($11,000): Harden and company look to have a great fantasy matchup in a contest that could see a ton of scoring. These two teams have combined to score at least 209 points in two of their last four contests making points easy to come by.
SG – O.J. Mayo ($4,600): It is almost impossible to spread the funds around to all the positions without turning to some bargains. That is where Mayo, Aminu and Mike Dunleavy come into play. Mayo has had a solid stretch of games posting over 23 fantasy points in three straight games.
SF – Al-Farouq Aminu ($4,500): We could nearly build our entire fantasy lineup with members of both the Mavericks and Rockets. Aminu has posted at least 20 plus fantasy points in seven of his last 10 games. The last time these two teams met Aminu finished with seven points, eight rebounds and two assists.
SF – Mike Dunleavy ($4,300): You never really know what you might get from Dunleavy on a night to night basis. Since we are looking to cash in tonight we like his upside including his ability to post 30 plus fantasy performances. The Bulls should have an opportunity to make some plays against the Bucks.
PF – Anthony Davis ($11,800): No need to really explain this move as Davis is the top option available at his position. The Pelicans will turn to Davis early and often in this contest to help them pick up a much needed win on the road.
PF – Kris Humphries ($3,800): Humphries is our sleeper pick of the day as he has the ability to post 20 point fantasy performances but only costs us $3,800. The Washington Wizards power forward has been playing consistent minutes since returning from an injury.
C – Tyson Chandler ($6,000): The center options are limited on Saturday with other top options including Dwight Howard and Marcin Gortat. We elected to go with Chandler in this contests simply based on his recent success of at least 36 fantasy points in two of his last three games.