Strategies
FanDuel NBA Lineup for Friday April 3rd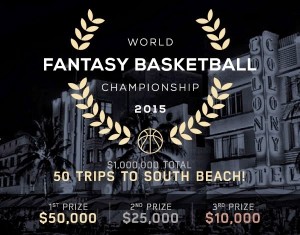 The weekend has arrived as FanDuel
owners look to cash in on the first Friday of April. Tonight we had a difficult decision to make as Russell Westbrook is in action tonight as well as Anthony Davis, John Wall and DeMarcus Cousins. That difficult decision was electing to go in a different direction than with the Oklahoma City Thunder point guard.
Typically Westbrook is a staple in our lineup night in and night out but after looking back at the last two times he has faced off against the Memphis Grizzlies we elected to go with a cheaper alternative while spreading the salaries around to a few different players.
We elected to go with Reggie Jackson for the Detroit Pistons as they head to Chicago to take on the Bulls. Jackson not only saves us over $4k in salary cap savings he can also provide us with some big time fantasy numbers nearly every night of the week. The savings allowed us to spread it around to upgrade the second point guard position.
JOIN FANDUEL'S $275K NBA SLAM!

Our top fantasy star tonight is Anthony Davis for the New Orleans Pelicans as they take on the Sacramento Kings. Davis was able to post 24 points to go with nine rebounds, two assists, six blocked shots and a steal just last week against the same Kings team.
PG – Reggie Jackson ($8,300): Jackson gets another shot at the Bulls tonight after a very strong performance back on March 21st. In that contest Jackson finished with 22 points to go along with three rebounds and 11 assists. Overall Jackson has finished with over 30 fantasy points in eight of his last ten contests.
PG – Jordan Clarkson ($7,500): The Los Angeles Lakers starting point guard as well as Jeremy Lin are both viable options tonight against the Portland Trailblazers. The Trailblazers have allowed the most fantasy points over the past three weeks to the point guard position.
SG – Brad Beal ($5,800): Beal has been on a solid fantasy role of late dropping over 33 fantasy points in two of his last three games. Tonight the Washington Wizards take on a New York Knicks team that has struggled to slow down opposing shooting guards.
SG – Danny Green ($5,100): Green is a great option tonight as the San Antonio Spurs host the Denver Nuggets in a game that Vegas has slotted for an over/under of 206.5. This contest is also projected to be a blowout something that could allow Greg Popovich to rest some of his key aging starters.
SF – Jeff Green ($5,200): The Grizzlies take on an Oklahoma City Thunder team that has struggled to slow down opposing small forwards. Entering tonight's contest the Grizzlies are allowing the third most fantasy points to the position over the past three weeks.
SF – Jae Crowder ($5,000): Tonight we elected to go with Crowder as more of a gamble play that could reward us with a big time fantasy performance. Crowder has slowed down of late after posting seven straight games with over 20 fantasy points.
PF – Anthony Davis ($12,200): It was an easy decision to go with Davis tonight, as we didn't care for Westbrooks matchup against the Grizzlies. Davis has five straight games over 46 fantasy points making him a great fantasy option tonight.
PF – Boris Diaw ($4,400): Much like Green we like Diaw tonight at the power forward position in a game that could see some of the key starters resting of late with a blowout. Diaw has four 26 plus fantasy performances in the past ten games.
C – Jonas Valanciunas ($6,100): Tonight's contest between the Toronto Raptors and Brooklyn Nets has a potential to be a high scoring contest as well as a game that could feature a ton of shots. This increases Valanciunas fantasy value on the glass as well as legitimate scoring option.