Strategies
Fanduel NBA Lineup for Friday March 20th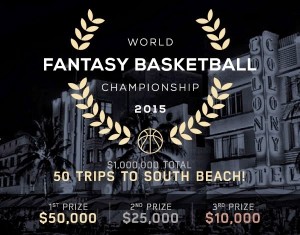 The NBA action is in full force for FanDuel
owners tonight with a 12 game slate taking the court. In action the list of top fantasy performers includes Russell Westbrook, Chris Paul, LeBron James and DeMarcus Cousins. That being said we would love to build a dream team roster but that won't happen.
When you look at the top fantasy scorers in the NBA they all have huge price tags leaving us to wonder what player should we build our lineup around. We elected to go with Westbrook tonight for Oklahoma City tonight against the Atlanta Hawks in our main lineup.
Westbrook is entering tonight's contest with four straight fantasy performances with over 50 points. Along with the fantasy points we expect him to be used in a high amount of contests around FanDuel making it even more important to offset his points if he has a big fantasy performance tonight.
Unfortunately, Westbrook carries a salary of $13,200 limiting us on adding another top fantasy option tonight. Along with Westbrook in tonight's Hawks/Thunder matchup we like point guard Jeff Teague as well as  Paul Millsap.
Here is our complete NBA lineup for March 20th, 2015.
PG – Russell Westbrook ($13,200): Westbrook easy the easy option simply based on his fantasy production this season. Over his last 9 games played he has posted at least 50 fantasy points in eight of those contests. While we love Westbrook we understand the cost so you could elect to go with either Steph Curry or even Kyrie Irving tonight to save some fantasy cash.
PG – Jeff Teague ($6,700): While the options are endless at the point guard position we expect tonights contest against the Thunder to be a high scoring contest on both sides. Teague will also have a chance to pick up some points off turnovers off of Westbrook who has seven in each of his last two games.
SG – Arron Afflalo ($4,200): Looking for a FanDuel bargain is always key in building a great lineup that is where Afflalo comes in tonight. Afflalo and the Portland Trailblazers take on an Orlando Magic team allowing the second most fantasy points to the shooting guard position over the past three weeks.
SG – Eric Gordon ($6,000): Gordon and the New Orleans Pelicans take on a fast paced team that likes to shoot tonight in the Golden State Warriors. This should open up a scoring opportunity for Gordon who has at least 20 fantasy points in seven straight games.
SF – Paul Pierce ($4,800): The Washington Wizards veteran has played well of late leading to solid fantasy performances for his owners. This includes four straight games over 20 fantasy points including a 30.6 performance in his last outing.
SF – Michael Kidd-Gilchrist ($5,900): Kidd-Gilchrist might be the most frustrating fantasy player in the NBA. He has so much potential but when he finishes with a 12-point fantasy performance it kills your lineup but his upside is to great to pass up. We saw that recently when he posted a 41.8 fantasy performance for his owners.
PF – Thaddeus Young ($5,800): The Brooklyn Nets power forward is a solid option tonight against the Milwuakee Bucks. The Bucks enter tonight's game allowing the second most amount of fantasy points to the power forward position over the past week.
PF – Paul Millsap ($7,800): Millsap should have an opportunity to put up both points and rebounds in tonights contest against the Thunder. The Hawks power forward has posted three straight contests with over 32 fantasy points.
C – Zaza Pachulia ($5,200): This is where it was difficult as we didn't have a ton of options based on the salary we had left. If you elect to go cheaper at the point guard position over Westbrook you could upgrade to Hassan Whiteside or Nikola Vucevic. That being said Pachulia has a great matchup against a Nets team allowing the most fantasy points over the past three weeks to the center position.
JOIN FANDUEL'S $300K Fri NBA Slam