Strategies
Fanduel NBA Lineup for Monday February 23rd

James Harden looks to get back on track for FanDuel
owners tonight. Harden who was on fire entering the 2014-15 All-Star game has put up some solid numbers since. In the two games since the All-Star break ended, Harden has posted 35.5 and 39.9 fantasy points. Each of those are solid numbers but at the $10,600 price point fantasy owners need more out of him.
Along with Harden, we also like Ricky Rubio tonight for the Minnesota Timberwolves. When healthy Rubio has shown his ability to be one of the better point guards in the league and on a night with only a handful of great options available, Rubio presents a great bargain at $6,500. In his last two games Rubio has posted back to back games with over 38 fantasy points.
Overall FanDuel
owners have an eight game lineup to choose from that also includes some other high priced talent including Chris Paul, DeAndre Jordan, Derrick Rose and Ty Lawson. Out of all the action the two games we really like tonight from the fantasy side is Timberwolves traveling to take on the Houston Rockets with a line of 211. The other game is the Boston Celtics traveling to take on the Phoenix Suns with a line of 213.5 points.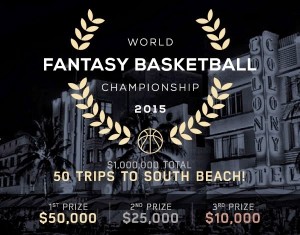 Here is our FanDuel
Lineup for Monday February 23rd, 2015.
PG – Ricky Rubio ($6,500): Rubio is a double double waiting to happen but has also showed ability over his last two games to post a high number of rebounds. In the game before the All-Star break Rubio finished with nine rebounds and his last game he posted eight rebounds.
PG – Marcus Smart – ($4,700): The Celtics are consistently getting Smart about 30 minute a night but his stat line hasn't showed up to match his minutes. That being said he has shown an ability to put solid numbers in matchups where the point line is higher. Tonight's line against the Suns is the highest of all the games in action.
SG – James Harden – ($10,600): It is hard to go against James Harden on any night he is on the floor especially while the club is without Dwight Howard. That being said we need Harden to get back on track with a big game tonight to make up for his high salary. The Rockets matchup with the Timberwolves is expected to be a high scoring contest on both sides.
SG – Avery Bradley ($5,000): Bradley has posted back to back solid games for the Celtics including a 50.6 fantasy performance on Friday Night. In each of his last two games, Bradley has seen the floor for over 40 minutes something that works in his favor.
SF – Gordon Hayward ($8,400): Hayward is the top option tonight among the small forward position making it an easy call. The Utah Jazz small forward has posted five consecutive games with over 32 fantasy points for his fantasy owners.
SF – Jae Crowder ($4,100): The trend continues as we go with another Boston Celtic tonight this time it is the high risk high reward Crowder. Crowder is a FanDuel Bargain tonight at $4,100 and if he can provide the same level of play as he did on Sunday against the LA Lakers it should pay off.
PF – Pau Gasol ($9,700): With Anthony Davis out, we elected to go with the only other power forward averaging over 40 fantasy points a game. That being said we recommend monitoring his health as he was rumored to be battling a thigh injury but didn't show any concern on Saturday.
PF – Markieff Morris ($6,100): We love Morris tonight against a Boston Celtics team allowing the fifth highest amount of fantasy points to the power forward position this season. This game also has the making to be the highest scoring contest of tonight's action.
C – Tyler Zeller ($4,500): We elected to go expensive in other areas leaving us very little wiggle room at the center position. In the two games since the All-Star break Zeller has posted two solid fantasy games at 36.8 and 24.7 to warrant a FanDuel Bargain salary of $4,500. One option if you don't like this matchup is to with someone like Josh Smith in place of Pau Gasol at the power forward positon opening up enough cash to go with Hassan Whiteside.