Strategies
FanDuel NBA Lineup for Saturday March 21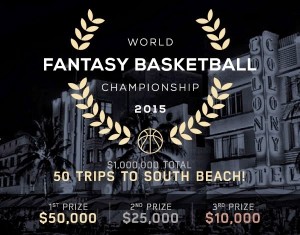 James Harden looks to cash in for FanDuel
owners on Saturday March 21st. Harden who is coming off a career high 50 points in his last outing is the top fantasy option taking the court on Saturday in a limited five game slate. The Houston Rockets shooting guard has at least 30 fantasy points in his last eight games including two games over 60.
Along with Harden the other key player we like early on is Stephen Curry going up against the Utah Jazz. Now this is a little early to be certain so I would check the daily lineups before the time deadline to confirm Curry is in the lineup as the team is coming off back to back games. That being said the team is expected to be without Klay Thompson so look for Curry to be in the lineup.
As far as some of the other great fantasy options on Saturday the list includes LaMarcus Aldridge, Pau Gasol and Greg Monroe.
JOIN FANDUEL'S $225K NBA SLAM TODAY!

Here is the rest of our FanDuel
lineup for Saturday March 21st.
PG – Stephen Curry ($10,000): Curry is the top option at the point guard position out of a very limited selection of players. Add in his increased value with Klay Thompson out of the lineup makes him a must start fantasy option on Saturday Night.
PG – Beno Udrih ($3,900): The Memphis Grizzlies backup point guard is our FanDuel bargain of the night for Saturday. If Udrih can deliver a performance like he did in his last outing when he finished with 27 fantasy points it could go a long way in for FanDuel owners to make some money.
SG – James Harden ($11,000): Much like Curry, Harden is the best option on the board at the shooting guard position as well as the top fantasy option on the court. Harden has the potential on any night of the week to put up over 50 fantasy points for his fantasy owners.
SG – Tony Allen ($4,700): Allen has been fairly consistent of late with his fantasy value increasing based on three straight outings with over 30 minutes played. In that stetch, Allen has posted at least nine points in three straight contests for the Grizzlies with two of those going for over 22 fantasy points.
SF – Draymond Green ($7,700): The Golden State Warriors small forward has been red hot of late posting three straight 30 plus fantasy performances for his owners. While Green can show up empty every once in a while he has been solid over his last 10 games with six games over 30 fantasy points.
SF – P.J. Tucker ($5,400): When we started to build our lineup the first contest we started looking at was the Phoneix Suns taking on the Houston Rockets. This game will be high scoring with a ton of shots on both sides of the court elevating every player involved fantasy potential.
PF – David West ($5,700): West might not give you that big time fantasy performance you really like he will though give you consistent numbers night in and night out to help your fantasy team. Over his last ten games he has failed to reach 20 fantasy points in just one contest.
PF – Thaddeus Young ($5,800): Since we are strapped on cash we were looking for a few players in this price range and Young fits the bill we are looking for. While Young has his ups and downs he also can deliver a 30 plus fantasy game when you need one.
C – Brandan Wright ($5,600): The Suns center lands in our starting rotation on Saturday but we recommend monitoring the team's injury report. If Alex Len continues to miss time we suggest continuing to use Wright night in and night out at this price point.