Strategies
Fanduel NBA Lineup for Tuesday February 24
JOIN FANDUEL'S $250K Tue NBA Slam

Russelll Westbrook the main piece to any FanDuel
Lineup tonight! Westbrook has been on fire of late posting over 52 fantasy points in all three contests after the All-Star Break. That being said as long as Kevin Durant is out dealing with his foot injury the Oklahoma City Thunder point guard is a must start on any roster.
Along with Westbrook you will have a four game lineup to assemble from tonight on FanDuel
. The matchups includes the Thunder taking on the Indiana Pacers at home with a line of 204, the Cleveland Cavaliers traveling to Detroit to take on the Pistons (line at 205.5), the Golden State Warriors traveling to Washington to take on the Wizards (no line) and the Toronto Raptors heading to take on the Dallas Mavericks (line at 205.5).
The only question mark heading into tonight that might alter some of your lineups is whether or not Stephen Curry plays. Curry is dealing with a foot injury and this could be the exact reason that the sportsbooks avoided putting a line out. The Warriors are the top offense in the NBA with Curry in the lineup and typically top the 100-point mark night in and night out.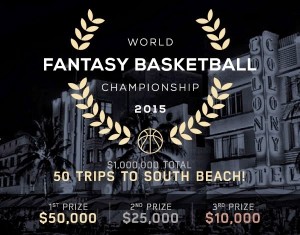 PG – Russell Westbrook ($11,100): The top two fantasy point guards are in action tonight but Westbrook is the easy call. While some might consider using them both concerns over Curry's foot has as weary of spending that amount of cash on two point guards.
PG – Kyle Lowry ($7,400): Lowry has a great matchup tonight going up against a Dallas Mavericks team allowing the fifth most amount of fantasy points to the point guard position over the past three weeks. That being said Lowry has been fairly consistent over the past 10 games posting three fantasy performances with over 30 fantasy points.
SG – Monta Ellis ($7,200): We like both of the shooting guards in action tonight in Dallas. The first is the Mavericks Monta Ellis who has put up at least 20 fantasy points in nine of his last 10 games with the only single digit performance coming when he managed to only play four minutes due to an injury.
SG – DeMar DeRozan ($6,700): We're looking for a big game tonight out of DeRozan something like we saw back on February 6th against the Los Angeles Clippers. That being said DeRozan has posted three 30 plus fantasy performance in his last five games.
SF – James Johnson ($4,500): We elected to go with two bargains at the small forward position over electing to go with LeBron James. That being said if you like James you could go cheaper at the second point guard position. Now back to Johnson has posted at least 23 fantasy points in four of his last six games on the court.
SF – Al-Farouq Aminu ($4,300): Aminue is an up and down type of fantasy performer who disappointed in the teams last game against the Charlotte Hornets. That being said we are looking at him more of a bargain player tonight to provide somewhere in the neighborhood of 20 fantasy points.
PF – Dirk Nowitzki ($6,400): Tonight's matchup against the Raptors has the making to be a high scoring contest. That being said Nowitzki isn't the same type of scorer we have seen from him in the years past but he has posted at least 22 fantasy points in three straight contests.
PF – Luis Scola ($4,200): The Indiana Pacers power forward might be the best bargain of the night at only $4,200. In his last two games since after the All-Star break, Scola has posted contests of 30.9 and 21.6 for his fantasy owners.
C – Andre Drummond ($8,200): We elected to go with the top fantasy center on the board tonight. Drummond has posted back-to-back 40 plus fantasy performances making him a great start tonight. As we stated earlier if you like James at the small forward position you could save some cash here by going with Enes Kanter for the Thunder.